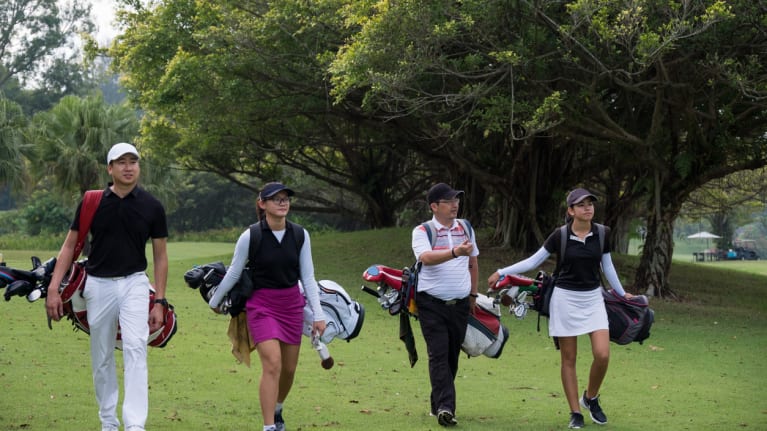 ​
Editor's Note: SHRM has partnered with BizEd Magazine from AACSB International to bring you relevant articles on key HR topics and strategies.
Imagine a brand-new corporate office with modern furniture, warm colors on the walls, plush carpet. Inside, the employees are buzzing with creativity and enthusiasm. But there's something strange happening in this workplace: Some of the employees—primarily men—speak in a language that most women and minorities in the office do not understand. Those who are fluent use this language to conduct business, make deals, forge friendships and cement business networks. Those who aren't are excluded.
The question is: Why hasn't everyone who works here learned to speak in this same elusive language? Why didn't their business schools teach them this vital skill?
Players Get Privileges
If you hadn't guessed, I'm talking not about a spoken language but the game of golf, widely known as the international language of business. Forbes reports that almost all Fortune 500 executives play golf; furthermore, executives who play golf earn about 17 percent more than those who don't.
But women and minorities rarely play the game. The U.S. National Golf Foundation reports that only 23 percent of golfers are women, and the Professional Golfers Association (PGA) says that just 18 percent are minorities. Might this be one reason that women account for just 6 percent of Fortune 500 leaders, according to Fortune, and minorities for less than 1 percent, according to CNN?
And those low numbers persist even though women and minorities are becoming larger parts of the leadership pipeline. For instance, women make up 50 percent of the undergraduate business school population, according to the National Center for Education Statistics (NCES), and 35 percent of the MBA population, according to the Forté Foundation, a nonprofit encouraging greater representation of women in business. According to the NCES, black and Hispanic students now receive 22 percent and 19 percent of bachelor's degrees in business, respectively, and 32 percent and 24 percent of master's degrees.
In a survey of its members, the Executive Women's Golf Association found that 79 percent of respondents agreed that they can get to know a person better on the golf course, and 73 percent agreed that golf helped them build new relationships. At the same time, a study from Catalyst, a global nonprofit working to increase the number of women in leadership positions, found that 46 percent of women feel they are excluded from informal networks at work and that this exclusion is the biggest impediment to their career goals. Fifty percent of women felt that being able to talk about golf at the office helped their careers.
Golf at the Fore
Why is golf uniquely positioned for conducting business? First, golf is a versatile game that encourages social interaction and conversation. There is a reason that business meetings don't take place over games of football, basketball, softball, soccer or tennis. Because the average round of golf takes about four hours (not including time spent at the "19th hole," a term that refers to drinks after the end of a game), the sport is a catalyst for making friends, building networks and developing lifelong relationships.
Second, golf gives great insight into the personal qualities of the players, embracing integrity and personal responsibility as it teaches manners and respect. Whether a player possesses or lacks these qualities is on display for all to see on the course. In short, golf can show the best and the worst in a person—sometimes in just one round of play.
Third, golf helps people build their personal networks. Need to find an attorney, accountant, realtor or banker? Participate in a golf event sponsored by a chamber of commerce, United Way or Make-A-Wish Foundation—it will yield more personal connections than an email or phone call. Want to build goodwill and raise awareness about a business? Host a golf event to raise money for a local charity. Want to foster business relationships? Join a local golf league.
Fourth, golf generates revenues. The National Golf Foundation estimates that in the U.S. there are 15,000 golf facilities, where 24 million golfers play 450 million rounds of golf each year. Many of these rounds are played in sponsored events—the African American Golf Digest reports that the average golf course hosts 50 golf events per year. It would be easier to list the number of organizations that don't host at least one annual golf event than to name all that do, especially among charitable organizations. According to the PGA, the revenue generated by the golf industry in the U.S. in 2016 was more than $84 billion.
Last but not least, golf promotes good health. Many players walk about four miles to complete 18 holes of golf, and they spend that time outdoors, which can lower levels of stress and anxiety. Last year, the British Journal of Sports Medicine published the Consensus Statement on Golf and Health, which cites health benefits such as increased longevity; a lower risk for cardiovascular disease; improved strength and balance in older adults; and lower cholesterol levels, blood pressure and blood sugar.
Golf's Biggest Myth
Leslie Andrews, author of Even Par: How Golf Helps Women Gain the Upper Hand in Business, encourages more women to take up the sport by dispelling some of the myths about the game. The biggest myth? That people need to be skilled at golf to participate. Andrews emphasizes that no one needs to be great to play; they just need to be "good enough." In fact, because players are given handicaps according to their skill levels, the game accommodates all ages and abilities. People need only understand golf course etiquette and the pace of play.
Andrews also points out that most golfers, regardless of gender, are average players at best, and that someone can become "good enough" at golf in as little as a few weeks or after only a few lessons. Last, she makes this point: If you're not getting invited to play at work, keep reminding everyone that you're a golfer. And don't forget that your office should include a photo of you on the course.
On Course for Success
Fortunately, in recent years the underrepresentation of women and minorities in golf has garnered greater attention. Golf organizations around the world are working to make the sport more diverse. For example, We Are Golf and Golf 20/20 recently merged to support their common mission to galvanize the golf industry around initiatives that will sustain the sport's international growth. The organization, which retains the We Are Golf name, created a task force to investigate ways to increase ethnic and gender diversity in the sport. The Professional Golf Association of America also has taken a leadership role to promote gender diversity, including its #InviteHer campaign that encourages golfers to invite more women to golf.
How can we contribute to this effort? If our mission includes preparing recent graduates for success in the business world, that mission must include teaching them to play. To date, there is little research on the extent to which colleges and business schools teach students—especially women and minorities—about the game. But the low number of women and minority golfers suggests we need to do a better job.
We should follow the lead of organizations like We Are Golf and communicate more clearly that golf is a tool that can fuel career success. Luckily, most solutions are easy to implement. College-level deans can quickly get the ball rolling by sponsoring professional development golf clinics for students, much like they do for dining etiquette. Administrators can initiate and support informal activities such as student golf organizations, as well as formal programs such as one-credit golf classes hosted by local golf courses.
Golf offers networking and career advancement opportunities we can't afford to miss—especially those from underrepresented groups. As Jane Filing, founder of WomensGolf.com, puts it: "We have a daily responsibility to share the tremendous benefits of golf with everyone. Especially those who have felt unwelcome in the game in the past."
Deborah M. Gray is a professor of marketing at the College of Business Administration at Central Michigan University in Mount Pleasant.
This article is reprinted from AACSB.edu with permission. ©2019. All rights reserved.