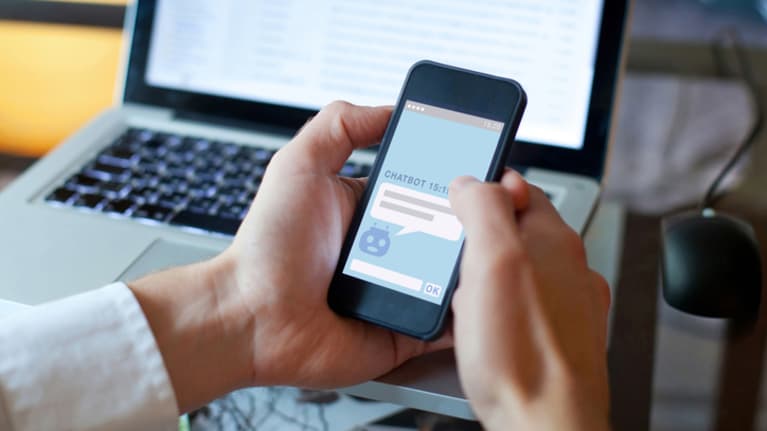 ​The market for virtual recruiting assistants—in the form of chatbots—is booming. Vendors are releasing several new products to quench recruiters' thirst for artificial intelligence (AI) that can reduce their administrative burdens and improve candidates' application experience.
Many of these next-generation virtual assistants use natural language processing and machine learning to interact with candidates in a manner similar to how human recruiters would interact, learning over time to become smarter about how they respond to candidates.
Today's more mature virtual assistants not only answer candidates' frequently asked questions, but they also screen and short list large applicant pools as well as automate the often unwieldy task of scheduling candidate interviews. Some handle onboarding tasks and improve the retention of new hires.
[SHRM members-only online discussion platform: SHRM Connect]
New Capabilities
Concord, Mass.-based SmashFly Technologies has introduced a new AI-powered assistant. Called Emerson, it helps recruiters quickly identify the strongest candidates within large talent databases, said Josh Zywien, vice president of marketing for SmashFly.
"One of the bigger challenges for recruiters is finding the applicants that are most equipped and engaged within what can be thousands of contacts in a candidate relationship management [CRM] system," Zywien said. "Recruiters need more information about those candidates beyond the fact they viewed some landing pages or opened e-mail."
Using its conversational abilities, Emerson learns more about candidates' qualifications as well as who they are and what they care about, Zywien said, allowing recruiters to fast-track priority candidates. The tool can also alert recruiters to take over a conversation in person if needed.
By working with SmashFly's CRM, Emerson can automatically create a new contact record and track all conversations a candidate has with the chatbot in a single record. Those conversations often give recruiters more data and insight when evaluating candidates.
Reducing Screening and Scheduling Burdens
It's not uncommon for line managers or recruiters in some organizations to dedicate entire days to interviewing candidates, ultimately hiring only a small percentage of those they see. For example, recruiters at Staples—one company that uses Emerson—might ask the same 15 screening questions to 60 candidates in a single day. The virtual assistant helps Staples' recruiters avoid this work.
"Emerson can screen out candidates who aren't qualified and then automatically schedule interviews with those who are," Zywien said.
One of the pioneers of AI-powered recruiting assistants, Mya is a conversational recruiting chatbot that was introduced in 2016. Mya continues to lure clients around the world. Cosmetics company L'Oreal uses Mya to reduce tasks for recruiters in the screening and interviewing stages. The company receives about 2 million applicants for jobs every year, hiring some 5,000 candidates annually. Mya screens those candidates by text, asking and answering questions as well as checking qualifications. Mya then delivers a shortlist of qualified candidates to recruiters based on a preprogrammed assessment model.
Before using Mya, recruiters in L'Oreal's U.K. operations spent, on average, 45 minutes to screen, schedule and conduct a phone interview with a candidate. Mya reduced that process to four or five minutes, according to L'Oreal's chief digital officer of global HR, Nilesh Bhoite, speaking to attendees at the People Matters TechHR 2018 conference.
"Mya conducts screening conversations to help narrow applicant pools for recruiters," said Eyal Grayevsky, co-founder and CEO of Mya Systems. "It also automates scheduling of interviews as well as supports onboarding by answering a wide range of questions new hires typically have."
Silicon Valley-based AllyO also has a recruiting assistant that eases the burden of applicant screening and interview scheduling. "There are certain screening questions that … you don't need a human to ask," said Raahul Srinivasan, a product manager for AllyO. "Questions about qualifications and verifying or collecting information can be done … by our assistant in a conversational manner."
AllyO has an automated interview-scheduling function and an onboarding feature to answer questions from new hires, Srinivasan said. The assistant can also get feedback from new employees about how they're faring, an effort intended to increase retention.
Another fast interview-scheduling option is Mira from Montage. Applicants forced to wait too long for an interview or frustrated by the scheduling process will often look elsewhere for opportunities, said Kurt Heikkinen, president and CEO of Montage.
Recruiters for the Hospital Corporation of America (HCA) reduced the average time taken to schedule interviews from four days to under five hours by using Mira, according to Kelly Furbee, vice president of talent acquisition for HCA Healthcare. That has helped HCA hire nurses and clinicians faster and, in some cases, avoid having to hire contingent workers to fill gaps in work shifts.
Boosting the Candidate Experience
Some next-generation recruiting assistants keep applicants better apprised of their status during the hiring process. A 2017 study from the Talent Board found that 47 percent of candidates were still waiting to hear back from employers more than two months after they applied.
Mya is one of the virtual assistants whose features can keep candidates from falling into that black hole. "Historically, only about 20 percent of candidates hear back about their status, but we strive to make that 100 percent," Grayevsky said, noting that Mya gives applicants updates on their status.
Brazen Technologies also uses chat technology that gives candidates new ways to connect with recruiting teams beyond simply hitting an "apply now" button.
Before completing an application, candidates can chat with a recruiter or hiring manager either immediately, at a scheduled time or during an online chat. Brazen said the idea is to give applicants more options to connect in ways they prefer while also keeping recruiters' heavy workloads in mind.
Dave Zielinski is a freelance business writer and editor in Minneapolis.