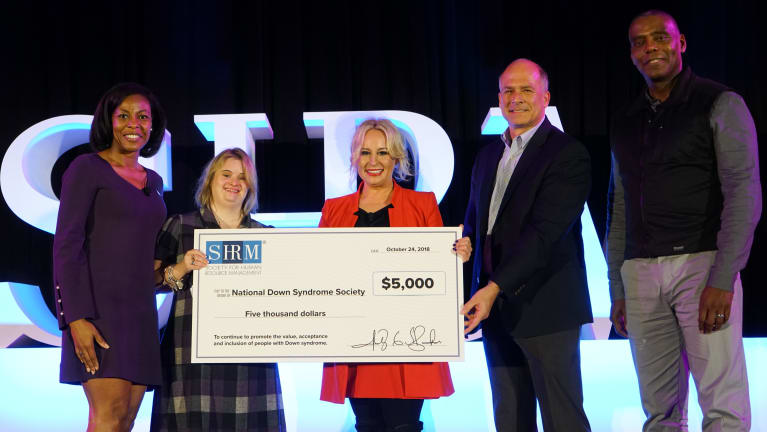 ​Race, gender, age, ethnicity and sexual orientation often come to mind when organizations are urged to be more diverse, but cognitive diversity—having workers who process information differently—also can benefit organizations.
Kayla McKeon—the first registered Capitol Hill lobbyist with Down syndrome and the National Down Syndrome Society's (NDSS's) manager of grassroots advocacy—was a keynote speaker for the closing general session of the 2018 Society for Human Resource Management (SHRM) Diversity & Inclusion Conference & Exposition in Atlanta, where she spoke about NDSS's work.
The group advocates for meaningful, integrated employment opportunities for people whose mild to moderate cognitive delays are caused by Down syndrome.
NDSS has a corporate roundtable of corporations and businesses that support its #DSWORKS Employment Program. Individuals with Down syndrome who participate in the program are business owners and work in a variety of fields, such as customer service, sales and food service.
SHRM has encouraged employers to recruit from groups that are underrepresented in the workforce, such as people with disabilities, military veterans and people with criminal backgrounds. The global HR organization recognized NDSS with a surprise donation of $5,000 to its #DSWORKS Employment Program.
[SHRM members-only toolkit: Employing Persons with Cognitive Disabilities]
Cognitive diversity also encompasses people with autism. Some of the world's best-known IT companies have begun hiring people with autism. In 2015, Microsoft launched its Autism Hiring Program as part of its inclusive hiring initiative.
SAP, a multinational software corporation based in Germany, has a similar Autism at Work program. Applicants for the program have included people with master's degrees and some with dual college degrees. One employee was a major contributor to two SAP patents, according to David Hu, vice president of development USA.
Different Perspectives
"We need a variety of perspectives to add value" to the workplace, said Edward E. Hubbard, Ph.D., who spoke at a concurrent conference session on leveraging cognitive and identity diversity. He is president and CEO of Hubbard & Hubbard Inc., an organization and human performance consultancy in Petaluma, Calif.
A team charged with designing a structure will create something different from the standard if that team is representative of different populations. Hallways might be wider, for example, to accommodate people in wheelchairs, Hubbard noted.
"Different people will see different things and bring a different set of lenses, a different set of knowledge to it," he said. "It's important to make sure you have a culture where people feel comfortable sharing their diverse ways of thinking."
Different perspectives should be valued, as long as those perspectives are grounded in knowledge about the topic. Hubbard used the example of the "shade-tree mechanic"—someone with no formal automotive training who can diagnose problems simply by the sound the car makes. While the person has no degree in auto work, he has become an expert through experience and problem-solving that relied on being innovative and perceptive.