What does learning to "hang 10" have to do with leadership?
On a remote beach resort in Playa Santana, Nicaragua—3,567 miles from her organization's headquarters in Alexandria, Va.—Denise Coursey was finding out. She was among the participants in LeaderSurf, an immersive training program designed for people in senior management positions and above.
To surf, you have to know where the surf breaks, position your board just so to catch the waves early, and shift your body to control your board and maintain balance.
"On the first day, we talked about surveying your environment … and aligning how, as a business leader, you have to constantly be aware of the environment around you so you can make decisions," said Coursey, president of Motley Fool Asset Management.
LeaderSurf is among a spate of unusual training programs for senior leaders.
The Gettysburg Foundation, for example, connects leaders of the past and present through its In the Footsteps of Leaders Executive Program. It is aimed at building and developing senior leadership skills and increasing effectiveness by exploring the battle through the eyes of key Gettysburg commanders. 
Other programs with a battlefield theme take place in Normandy, France and Waterloo in present-day Belgium. Training focused on improving business agility, resilience and high performance is available at Olympic training centers in Colorado Springs, Colo., and Chula Vista, Calif. The Apollo Experience at Johnson Space Center in Houston and the Kennedy Space Center in Cape Canaveral, Fla., specialize in innovation, culture and adaptive leadership.
Cabanas and Crashing Waves 
LeaderSurf has the trappings of a vacation—thatched-roof cabanas and ocean waves crashing onto the shore near two hotels and a restaurant. But whether they attend LeaderSurf in Nicaragua, Costa Rica or Charleston, S.C., the attendees—about 60 percent of whom are women—are expected to work on more than just how to ride a wave.
Brian Formato, LeaderSurf CEO and founder, doesn't think a typical classroom setting for leadership development works well because students' attention wanders: Did I pick up the dry cleaning? Did I get that report to my boss?
He holds a master's degree in organizational management, and his HR background includes two years as director of organization management at the Motley Fool.
"The belief system we have is if you put people in an environment where they feel more relaxed and at ease, the more open [they'll be] to experiencing new things," he said, and leadership lessons will be more memorable. "You have to engage the whole person."
That's where surfing comes in. Each class has six to 12 people, most of whom have never surfed before. The small class sizes allow for about three students per instructor.
Days typically start at 5 a.m., with tide tables determining when lessons are held. Business classes include a student-led presentation on a leadership topic every afternoon and team building in the evening. Participants keep a journal, present a business challenge they are facing at work and create a timeline for tackling the issue when they return home.
"They were very full days, and almost all of it was learning and developing … from the other folks in the group," Coursey said. "The things I valued most were the contacts I made and the knowledge there are other people out there struggling with the same [leadership] challenges" and how they handled them.
Discussion topics during her stay included how to take a small, founder-based business to the next level, promoting leaders from within versus hiring externally for different perspectives, and imposter syndrome—a feeling that success is due to luck, not talent or qualifications.
"We get people really to start thinking about what is an effective leader," Formato said, "and recognize … leaders come in all shapes and sizes."
He thinks surfing teaches people how to fail, be more innovative, be more open to risk and become more-iterative leaders. There's a wrong way to fall off the board and a right way to fall—such as covering your head when you hit the water so you don't get hurt. Some participants are humbled by the experience after getting pummeled by the waves, according to Formato.
"Even the best surfers in the world wipe out when they go into the water, [but] in business we're told failure is not an option."
Coursey found surfing a little scary at first, but also fun and exciting, and she discovered it involves a good deal of hard paddling to get up enough speed to catch a wave.
By the end, she could ride the wave most of the way in. A lesson learned: "Anything worth doing," she said, "takes hard work and balance."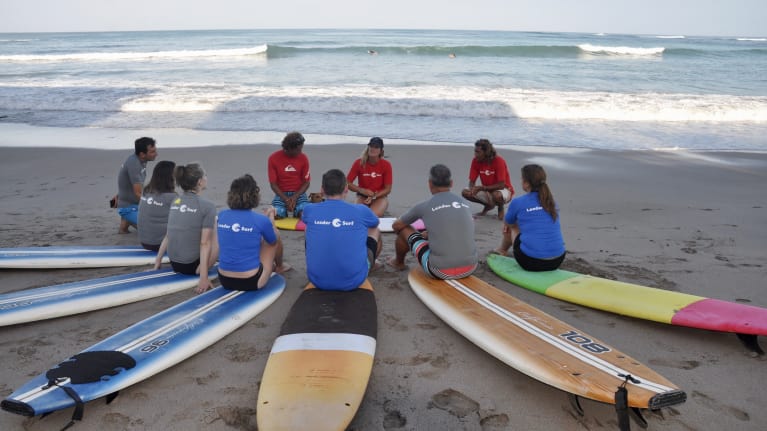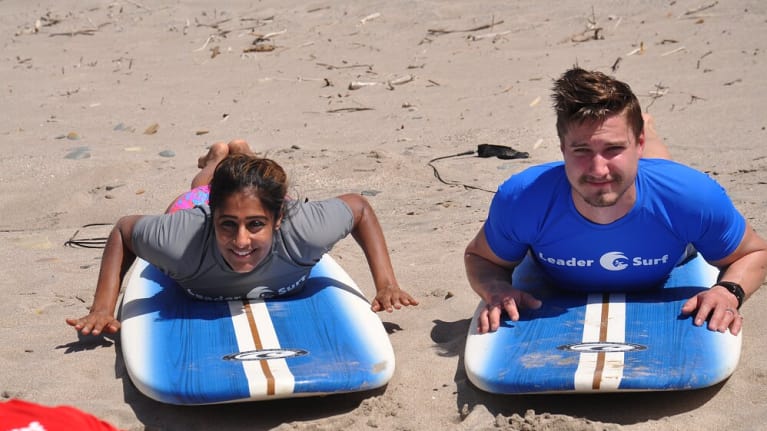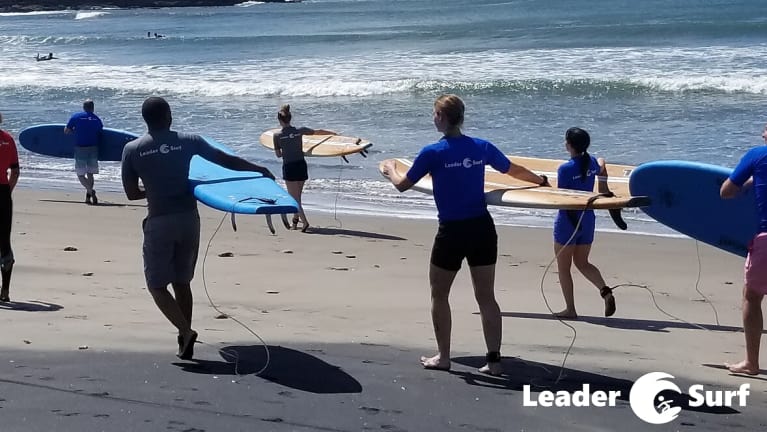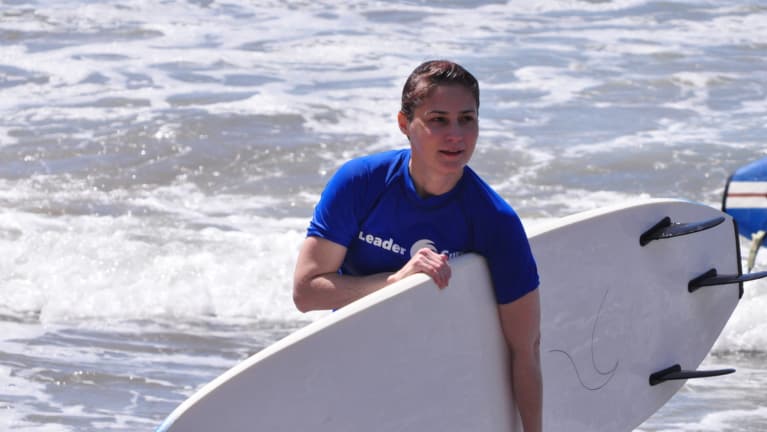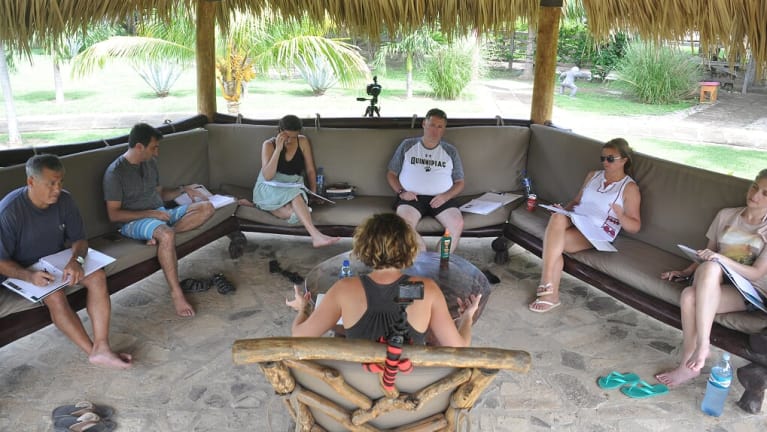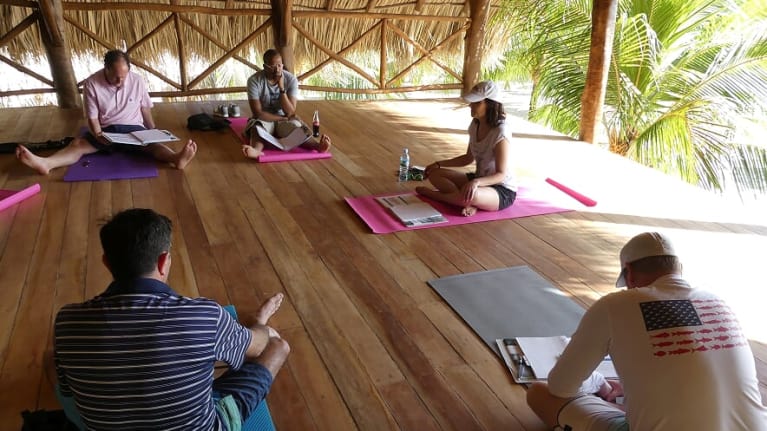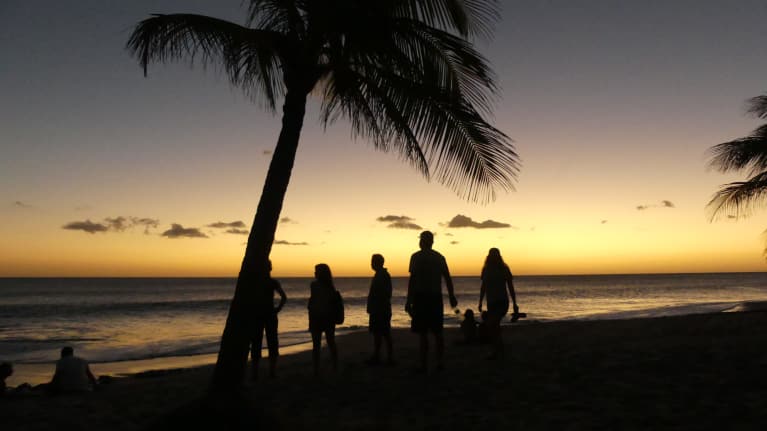 Courtesy: Donald Stone, LeaderSurf.