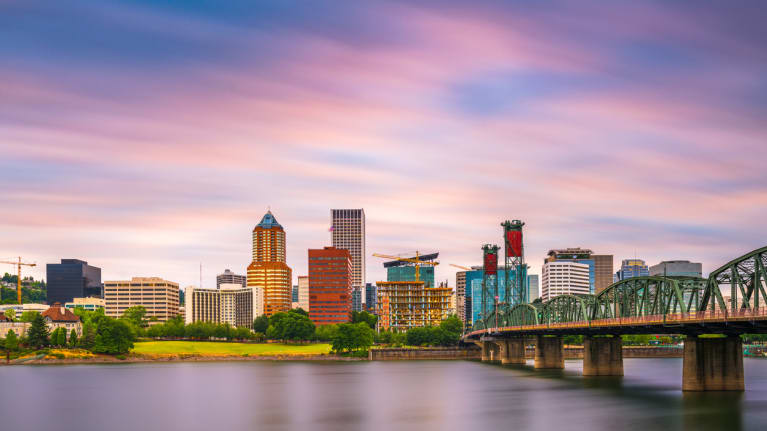 Democrats have had control of the Oregon House of Representatives, Senate and governorship since 2013—and employee rights and entitlements have expanded significantly.
"When I shared some of the latest highlights with my California employment attorney colleagues," said Sean Driscoll, attorney with Lewis Brisbois in Portland, "they responded that Oregon was starting to make California look conservative." California is known for its employee-friendly laws.
Trending Workplace Laws
Oregon has long been a national leader in enacting worker-friendly employment laws, Driscoll noted. Oregon has passed more-generous versions of federal laws, such as the state's anti-discrimination statute, which includes additional protected classes and reduces the threshold age for anti-discrimination protection from age 40 under federal law to age 18.
Additionally, the state's family leave law allows more relatives, such as grandparents, to take protected leave for more reasons, such as to care for a child or grandchild with a routine minor illness. The threshold number of hours an Oregon employee must work to qualify for leave is lower (25 hours per week for six months), and the statute provides more job protections, such as entitlement to an identical job upon return from leave.
[SHRM members-only community: SHRM Connect]Recently, Oregon became one of the first states to adopt several laws that have no federal counterpart, kicking off trends that others have followed. These laws include:
"Ban-the-box" law prohibiting employers from asking job candidates questions about criminal convictions prior to an initial interview.
Mandatory paid-sick-leave law.
Predictable scheduling law for retail and hospitality businesses.
Pay-equity law, which is by far the most protective among the states that have passed similar legislation.
New laws adopted this legislative session mandate the following:
An expanded limitation period for most discrimination claims from one to five years, and restricted use of confidentiality and nondisparagement terms in severance and settlement agreements.
That employers promptly notify employees if the company receives a notice of an inspection from federal immigration agents compelling the employer to provide access to employment eligibility records, such as I-9 forms.
Reasonable accommodations in addition to leave for pregnant employees.
Further restrictions on employers' ability to use noncompetition agreements.
The most generous paid family and medical leave protection in the nation, covering up to $1,200 in wages per week.
One notable characteristic of these new Oregon laws, Driscoll observed, is that they don't simply prohibit discrimination; they also require employers to act.
Whether complying with the predictive scheduling law, performing a pay-equity audit, creating a compliant paid-sick-leave program or engaging in an interactive process with pregnant employees about possible changes that will enable them to perform their jobs, employers are required to do more than simply refrain from discrimination.
"These laws mandate action," he said, "and that can only happen when HR tracks and understands the impact of these new laws and helps implement those changes in their companies."
Potential Impact
Dana Sullivan, attorney with Buchanan Angeli Altschul & Sullivan in Portland, believes the effects of these laws will be positive for employers and employees alike. "While I have read several recent legislative updates from large firms that report on these changes with a 'sky is falling' tone, I don't believe that employer panic is warranted."
Sullivan points to the various predictions that Oregon's SB 726, which expands the limitations period for discrimination claims, will lead to an explosion of claims and the impeding of employers' ability to defend against those claims, due to the departure of relevant witnesses and difficulty locating relevant documents. "Surveying the calls that I've gotten from prospective clients over the last 18 months, my opinion is that the implementation of a five-year statute of limitations will not lead to an exponential jump in the number of formerly time-barred claims. While I have seen an increase during this period of calls related to experiences of sexual harassment, only two of those calls related to situations that occurred more than one year prior."
But as long as the Democrats' supermajority continues in the Oregon Legislature, employers in Oregon should continue to expect new and amended worker-friendly laws, Driscoll predicted.