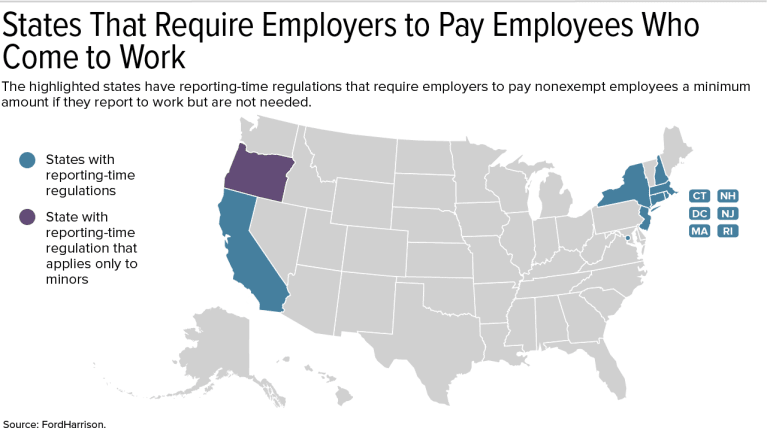 ​When inclement weather hits, HR professionals and managers need to know what the Fair Labor Standards Act requires for paying employees who may or may not be able to make it in to work.
And the FLSA isn't the only relevant law. The Occupational Safety and Health (OSH) Act and state and local statutes have requirements that also may have to be fulfilled, so HR should provide managers with a complete overview.
FLSA Rules
Most winter storm closures last only a few days. The Department of Labor (DOL) has stated that exempt employees must be paid their entire weekly salary for any week in which they work, regardless of how many days or hours they work in that week.
This general rule is subject to a few exceptions that allow limited deductions from exempt employees' pay. An employer may deduct a full day from an exempt employee's pay when that employee is absent for a personal reason other than sickness or disability, for example. If an employer remains open but an exempt employee chooses to stay home and not work for personal reasons, such as a fear of driving on bad roads, an employer could deduct a full day from the employee's pay.
"But you do so at your own peril," cautioned Laura Elkayam and Matthew Feery, attorneys with Much Shelist in Chicago. "Apart from risking an incorrect application of the law, employers risk ruining morale."
The FLSA permits employers to require exempt and nonexempt employees to use accrued leave for absences, even when employers are closed during a snowstorm. "This perhaps is an area where the question is not so much whether you can, but whether you should" make this a requirement, they said. "Forcing employees to use accrued leave when they otherwise were able and willing to come in to work risks hurting morale and perceptions of fairness, and it is a quick way to anger at least part of your employee population." It may control costs in the short run, "but in the long run, the savings may not be worth the hassle."
Nevertheless, Keith Kopplin, an attorney with Ogletree Deakins in Milwaukee, pointed out that unlike exempt employees, nonexempt employees get paid only for the hours they work. "This can create financial pressure for them to report for work on days their place of employment remains open despite inclement weather," he said. "Allowing nonexempt employees to use paid time off on bad weather days can alleviate the financial concerns that could prompt risky travel."
The DOL has stated that partial-day deductions from the salary of an exempt employee who is absent due to inclement weather aren't allowed. It nevertheless has confirmed that employers may deduct from available paid time off in partial-day increments, provided the employee receives the full weekly salary. "This is one way that employers can dissuade exempt employees from reporting late or leaving early due to inclement weather," Kopplin said. "Employers can also require exempt employees to make up time they choose to miss due to inclement weather on other workdays."
But Michelle Marks, an attorney with Epstein Becker Green in Chicago, noted that while leave time may be deducted for missed time―so long as this is permitted by state law―such a policy would likely be unpopular among exempt employees who could telecommute rather than use vacation time.
Telecommuting can help some employees stay productive, but train nonexempt employees to record their time accurately so they can be paid for all hours worked. "If employers prefer [that] their nonexempt employees never telecommute, even during a snowstorm, they should have clearly written policies prohibiting nonexempt employees from performing work outside of regular business hours or away from the office without approval," Elkayam and Feery stated. If nonexempt employees telecommute anyway, they must be paid but may be disciplined for violating the policy.
OSH Act
The OSH Act requires employers to provide a safe and healthy workplace for its employees. "This includes protecting workers from expected threats like winter weather and cold-weather exposure," said Curtis Moore, an attorney at Fisher Phillips in Columbus, Ohio. "It also includes ridding the workplace of weather-related hazards," such as ice on sidewalks or parking lots.
He said that employers should educate employees who work outside on the dangers of weather-related exposure and cold-induced injuries, and how to identify symptoms.
[SHRM members-only how-to guide: How to Determine Regulatory Requirements for Safety]
State and Local Laws
Reporting-time regulations require an employer to pay an employee who shows up for work at the company's request but isn't needed for the completion of the assigned shift. Depending on state and local laws, the business may have to pay the worker at a regular rate for a set number of hours established by statute or for the number of hours scheduled for his or her shift, stated Steven Suflas and Elliot Griffin, attorneys with Ballard Spahr in Denver and Philadelphia, respectively.
Jurisdictions with such regulations include California, Connecticut, Massachusetts, New Hampshire, New Jersey, New York, Oregon (minors only), Rhode Island, and Washington, D.C., noted Sal Simao and Joanna Rich, attorneys with FordHarrison in Berkeley Heights, N.J.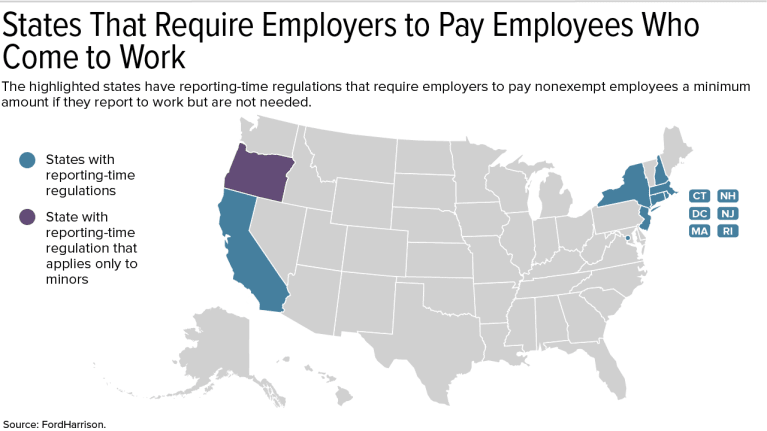 Predictive scheduling laws require employers covered by the law, such as those in retail and food services industries, to provide employees minimum notice of changes to their work schedules. Jurisdictions with such laws include Emeryville, Calif.; New York; New York City; Oregon; San Francisco; San Jose, Calif.; Seattle; and Washington, D.C.
"Some of these laws have exceptions where a change in schedule was occasioned by natural disaster or potentially extreme weather," they stated.
But Elkayam and Feery cautioned that unless the applicable law contains an exception for inclement weather, employers generally need to compensate employees under these laws.