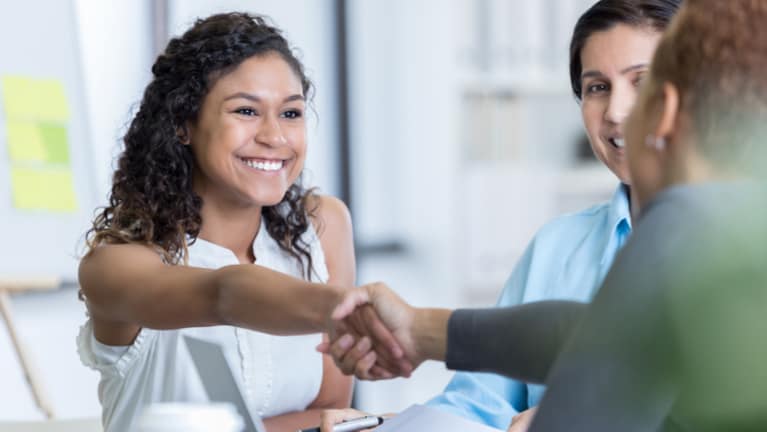 ​An employer may choose only one applicant for the job, but many are taking steps to ensure the contenders who didn't get hired feel good about the process and the company.
"We're not talking about making everybody happy," but making sure companies do a good job of setting expectations, communicating and treating applicants fairly, said Kevin Grossman, president of the San Francisco-based nonprofit Talent Board, which promotes positive candidate experience.
Treating applicants well is the right thing to do. And companies face the reality that offended candidates can affect a business's reputation, ability to attract talent and even the bottom line. Alienating applicants can mean "potentially millions of dollars a year in lost revenue," while engaging with them positively can boost business, Grossman said.
Unhappy candidates can share their experiences with friends, colleagues, acquaintances and, through social media platforms like Glassdoor, multitudes of strangers who may decide to forgo applying or doing business with a company.
Talent Board's "candidate experience resentment calculator" illustrates the point.
A U.S. company making 1,000 hires a year, with 100 candidates per opening and average customer revenue of $100, could lose nearly 22,000 customers and $2.2 million in revenue if it incurs an 11 percent "candidate resentment rate"—a figure gleaned from the organization's research. The ripple effects can be substantial for major retailers hiring hundreds of thousands of people a year.
Consumer products giant Kimberly-Clark, a Talent Board candidate experience award winner, sends coupons to phone-screened candidates. "That turns into a revenue stream," Grossman said. "Those little things still go a long way with a majority of candidates."
Kimberly-Clark also developed a candidate experience guide for its recruiters, provides peer liaisons for interviewees (like a buddy system made up of prospective co-workers) and requires managers to send thank-you messages to candidates after interviews, according to Talent Board.
Perhaps more important than coupons, candidates appreciate it when employers keep them informed, stick with their promises on matters like the timing of interviews and hiring decisions, and allow them to thoroughly present all their selling points for the job.
The top reason candidates give for withdrawing from the recruiting process is that their time was disrespected, Grossman said. Companies shouldn't cancel interviews or get back to candidates in six weeks if they said it would take two, he added.
Seventy-four percent of North American candidates recently surveyed by Talent Board indicated they would increase their relationship with a company they'd applied to if they had a great application experience, meaning they'd apply again, refer others or patronize the company. Forty-six percent said they'd sever their relationship with a company if they had a negative experience.
[SHRM members-only online discussion platform: SHRM Connect]
Improving Candidate Experience
"When we think about candidate experience we think about basics that are owed to anyone really," said Gerry Crispin, principal and co-founder of talent acquisition community CareerXroads and Talent Board co-founder and board member. "It requires serious thinking about how you're executing on that."
Mahe Bayireddi, CEO and co-founder of talent relationship management platform Phenom People, based in the Philadelphia area, noted that recruiting has changed from the days when big companies believed that "people need a job and we are the ones to provide it," and didn't worry about getting back to candidates.
"That world has completely shifted. The world we live in today, the candidate is more like a shopper, asking if they really want to work for the company, if they'll be able to grow there as an individual, make a unique contribution to the world and make a living," Bayireddi said.
Now, he added, employers need to know how to create an experience that's relevant to candidates, that will help them understand the company and its value proposition in their career path, and that will help the company find employees aligned with its purpose.
CareerXroad's Crispin cited five pillars of candidate experience.
Setting expectations. Candidate experience quality depends, in part, on the extent to which a company sets expectations and then delivers on them, Crispin said. That includes details such as application length, prepping candidates for interviews, explaining the offer and managing onboarding. If employers don't set expectations, candidates will create their own, "which is often very different from what the employer is going to deliver," he said.
Listening. Companies are training recruiters listen to applicants' questions better, providing communication tools like chat rooms for candidate-recruiter Q&A, and supplying recruiters' e-mail addresses, according to Crispin. Companies that listen well receive significantly higher candidate ratings, he said.
Accountability. "We do what we measure," Crispin said. If a company's performance scorecard requires only that it place 100 people in 100 seats over a year, the business won't hold itself accountable for how it accomplished that "and [for] what happened to all those people who did not get that job. If you're not collecting data from candidates you did not hire, you have no way of holding the recruiter accountable," he said. Companies that do are rated significantly higher.
Closure. Candidates need to know definitively if the company has decided not to hire them, Grossman said. If they made it far in the process, a phone call is preferable; if an applicant received an automated e-mail saying he or she will hear back if the company's interested, they should be sent a follow-up thanking them and letting them know the employer isn't pursuing them, he said. It's also important to shorten the time between final interview, hiring decision and onboarding, or the employer may lose the candidate, Grossman said.
Recruiters should let candidates know how long it will take to make a decision and stick with that timeline, according to Crispin; companies that neglect to do this are creating a frustrating experience for the applicant.
Perception of fairness. Candidates need to perceive they have as much chance as anyone else to compete for the job, Crispin said. "The moment the candidate perceives … that they weren't given adequate opportunity to present their case, you have a problem," he said.
It's important that employers make sure they haven't missed something when questioning applicants.
"The best way to do that is to ask the candidate, 'Is there anything that we didn't ask you that we need to know?' ". Rejected candidates who had the opportunity to state their case may not be happy but will rate the experience "significantly higher than if you felt you didn't get a shot," he noted.
Research by Bersin, Deloitte Consulting found six ways employers can positively influence candidates' early experiences with the organization, including building a strong employer brand and appealing website, simplifying the application process, and making sure interviews are engaging and fair.
While a variety of vendors offer software platforms to help employers recruit and onboard talent, high-tech solutions aren't necessary to provide a positive candidate experience, Crispin said.
"Technology can augment a good practice, but it can also enhance a bad practice, so how you use technology in and of itself does not provide engagement," he said. "It's the practice of how you treat employees and candidates that has value."
Dinah Wisenberg Brin is a freelance writer based in Philadelphia.