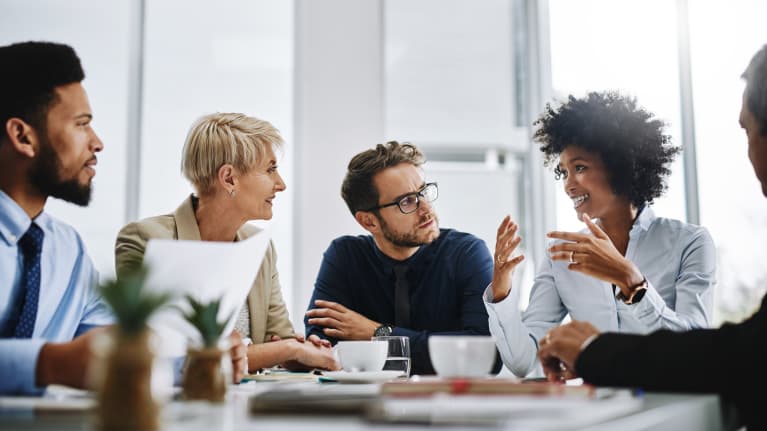 ​
ATLANTA—Diversity and inclusion work is not for the fainthearted. It requires boldness and a thick skin.
"This requires you to challenge people's conventional beliefs," said Shirley Davis, Ph.D. She is a global workforce expert on diversity and inclusion (D&I) with more than 25 years of experience in the field. "Nobody likes to change, and it takes a long time to see the manifestations of change."
Davis spoke at the 2018 Society for Human Resource Management Diversity & Inclusion Conference & Exposition on Tuesday. She recommended resources and offered advice on key people and groups that D&I practitioners need to help them succeed:
CEO and executive leadership: You need executive buy-in, commitment and financial backing.
"They get involved in the [D&I] work, [and] the CEO talks about it in talking points and holds direct reports accountable. It's on retreat agendas. It's a priority," Davis said. One way CEOs can show commitment is to have direct reports sit on an organization's D&I council.
Business unit leaders and line supervisors: Davis said, "This is one of the hardest areas to penetrate" for a variety of factors such as silos, limited resources and subcultures like those found within an organization's different departments. The unit leaders and line supervisors may feel they are being ordered to implement D&I strategies on top of their other job tasks and may not realize how these initiatives can help their teams.
Human resources: HR should be the D&I practitioner's biggest partner and advocate. It's important that D&I professionals show how D&I is relevant to the organization's—and HR's— mission.
Diversity council: It often is made up of executives at the vice president level and above who are decision-makers and have their own budgets. The council acts like a board of directors over employee resource groups (ERGs) or business resource groups (BRGs). It works on the organization's overarching D&I strategy for three to five years and uses ERGs and/or BRGs to execute that strategy.
ERGs and BRGs: While they are made up of nonexecutive employees and typically represent a variety of different workers such as veterans, parents, or employees of a similar race or national origin, they should be open to everyone, which helps to create alliances, Davis said. A veterans' ERG, for example, shouldn't be limited to people who have served in the military.
The groups should have a business goal, such as supporting marketing to veterans.
"ERGs are your accountability partners," and ideally the leaders report quarterly to the diversity council or committee, Davis said.
Partnerships and alliances: These are external relationships that can offer resources such as information on D&I trends and best practices. Some groups also have specialized conferences.
Among partners Davis suggested are the local chamber of commerce, the NAACP, the Human Rights Campaign, Women in Technology International, Working Mother Media, the National Society of Hispanic MBAs, the National Black MBA Association, the Tanenbaum Center of Interreligious Understanding, as well as vendors and suppliers.
Professional development resources: Keep abreast of D&I trends by reading books and studies, watching TED Talks on YouTube, and attending D&I conferences such as the  SHRM Diversity & Inclusion Conference & Exposition, next scheduled for Oct. 29-30, 2019, in New Orleans.
"Get a mentor who can help you develop, who can save you a lot of years of heartache and setback," Davis said. She also recommended SHRM's two-day seminar, "Inclusion, Diversity and Equity: Building a Culture of Excellence." Davis is SHRM's former vice president of global diversity and inclusion and workplace strategies.
Workplace technology and the chief technology officer: Is your website accessible to people with disabilities? How do employees access benefits information on your website, for example, if they are blind? Is the D&I officer's business card in Braille or in different languages?
Work with your company's chief technology officer to make sure these and similar issues are addressed.
[SHRM members-only how-to guide: How to Develop a Diversity and Inclusion Initiative] 
Ayesa Adams, SHRM-CP, found the resources and ideas helpful. She is director of HR at Aaron's, a specialty retailer in Atlanta. Her company is focusing on attracting more Millennials.
"A lot of this [D&I] work is important to them, and we want to make sure we're getting up to speed," she said. She added that they need to do a better job of externally promoting the company's D&I initiatives, like its new women's group. She also would like to see the website updated with a message from the CEO on D&I at their organization, and see the company to dedicate more money to D&I initiatives, such as inviting speakers and hosting events that promote the company's D&I efforts.
Broaden Your Scope
Davis noted that D&I practitioners should be involved in their organization's messaging, branding and other communications, and in measuring the results of the organization's D&I strategies.
Communication: Senior leaders need to include D&I talking points in team meetings, training course kickoffs or annual reports.   
Marketing and branding: The organization should prominently display a D&I statement on its website home page or careers page. A statement from the senior executive on the importance of having a culture of inclusion is very powerful messaging, Davis said.
Also, check out what employees and former employees are saying about your company on Glassdoor and its list of top D&I companies.
Metrics and dashboards: Don't just track the number of diverse employees you recruit. Instead, measure what is important to the organization, such as turnover. For example, are you losing people from a particular demographic? Look at recognition: Who is continually rewarded, and who isn't? Are men rated differently than their female colleagues? Is skill-building, mentoring and coaching inclusive or offered to only some employees?
"Our work is about building high-performing and inclusive workplace culture," Davis said. "This work is tedious, but this work is also honorable."