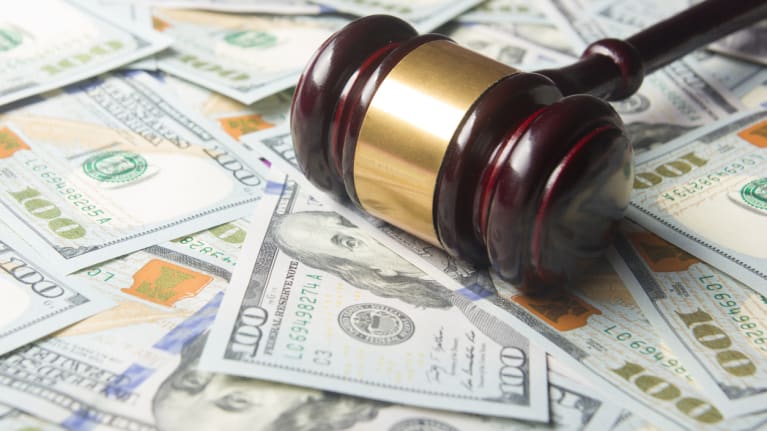 ​The Los Angeles Times is the latest employer to be found liable for age discrimination, with a jury awarding a former sports columnist $15.4 million in damages against the newspaper after the employee was demoted following health problems.
Google recently settled a class-action suit that alleged the company exhibited preferential hiring toward job candidates under the age of 40. The Internet giant agreed to pay $11 million, with each of the 227 plaintiffs receiving around $35,000.
In a suit filed in June, four white-collar Ford workers claimed that the employer targeted employees in its global restructuring based on how close they were to obtaining full pensions, according to the Detroit Free Press. They allege the automaker targeted workers who were close to achieving 30 years with the company or reaching age 55; in some cases those making those milestones "would have more than doubled the values of their pensions and retirement plans." 
These and other articles about purported age discrimination have made headlines recently. SHRM Online has collected the following articles on this topic from its archives and other trusted news sources. 
Jury Awards Former Times Sports Columnist $15.4 Million 
A Los Angeles jury has awarded T.J. Simers $15.4 million in damages against The Los Angeles Times for discrimination against him because of his age and disability. It was the second time a jury had considered whether Simers should receive damages related to his claim that after 22 years at The Times he was demoted from columnist to writer in 2013 when he developed health problems. One of Simers' attorneys said that, with interest, the publisher will owe $22 million to Simers and his wife.
(Los Angeles Times)   
Google Settles Age-Discrimination Lawsuit For $11 Million 
Google has agreed to pay $11 million to end a class-action lawsuit involving 227 people accusing the company of systemically discriminating against job applicants who were over the age of 40. Under the final settlement agreement, presented to a federal judge July 19, plaintiffs will collect an estimated $35,000 each. Under the settlement, parent company Alphabet Inc. must train employees and managers about age bias, create a committee on age diversity in recruiting, and make sure complaints are adequately investigated. 
(Forbes)   
Ageism at Work: The Discrimination No One Talks About  
Many not-so-young yet highly talented and richly experienced people often struggle in the Indian job market that is oversupplied with young talent. In an age where the corporate workforce is largely comprised of young Millennials, it is often difficult for those belonging to Generation X or the Baby Boomers to feel equally valued and respected. Employers often display negative attitudes towards older workers even if they are not necessarily less healthy or productive than their younger counterparts. Older employees are often overlooked when it comes to new career opportunities and learning and development programs. 
(Entrepreneur India) 
[SHRM members-only toolkit: Employing Older Workers]
Ageism Is Thriving, So What Are Companies Doing About It? 
From not even getting past the first interview to being segregated into niche roles, older workers are still facing discrimination. Some companies are trying to fix that. Companies looking to hire older workers need to be prepared to adjust how they think about getting work done and the types of benefits they offer to attract older workers, such as offering returnships to experienced professionals after time off for child or elder care. 
(Fast Company)  
Viewpoint: The Next #MeToo Movement—Older Women Confront Ageism 
According to a 2018 AARP report, 64 percent of women say they've been the target of or witnessed age discrimination. It's estimated that only 3 percent of older workers have ever made an official complaint to a supervisor, human resource person, or another organization or government agency. Similar to the shame women felt about sexual harassment prior to the #MeToo movement, many professional women remain silent when subjected to ageist behavior in the workplace. They choose silence, afraid to complain and draw attention to their age for fear they'll lose their jobs. 
(Chicago Tribune)   
Survey: Most Older Americans Face Age Discrimination in the Workplace  
Fifty-eight percent of Americans age 50 and older say older workers face discrimination in the workplace, and 75 percent consider their own age to be a detriment when looking for a job, according to a survey conducted by The Associated Press-NORC Center for Public Affairs Research. Additionally, among workers age 50 and older, about a fifth think they have been passed over for promotion or raises due to their age. Only 6 percent of older adults say their age is an advantage.
(Working Longer Study)
Is Age a Part of Your Inclusion Strategy? 
People are living longer, and there are more older people in the workforce and looking for work. The time is ripe for organizations to make age part of their diversity and inclusion strategies, noted panelists at The Future of Work for All Generations conference that AARP recently hosted in Washington, D.C. "You do have to retire the word 'retirement,' " said Julio Portalatin, vice chairman of global professional services firm Marsh & McLennan in New York City. "It is about different stages [of work and life] now … and our ability to reskill at those points." 
(SHRM Online)  
Checklist for Creating an Age-Inclusive Workforce 
Here are some actions your organization can take to create a workforce culture that is welcoming to older workers. 
(SHRM Online)   
[Visit SHRM's resource page on Ageism.]