Developing Accessible Jobs Websites
Part 2 of a
four-part series.
Did you know your careers website could soon be challenged as inaccessible? Litigation challenging inaccessible websites is sprouting up, not just against businesses open to the public but also against employers over inaccessible careers portals under state law in California. Could California prove to be a trendsetter in this developing area of employment law?
Website litigation against businesses open to the public already has increased dramatically under Title III of the Americans with Disabilities Act (ADA). More ADA lawsuits were filed against public accommodations over inaccessible websites in the first six months of this year than were filed in all of last year.
Lawsuits against employers over careers portals and website features for employees have followed. "Although most of the website-accessibility litigation has been directed at consumer-facing parts of the website, we are seeing an increase in claims involving the career and job-application portions of websites," said David Raizman, an attorney with Ogletree Deakins in Los Angeles. "We expect that to continue and for litigation to reach into other services and amenities that employers deliver through their websites, such as benefits training, making insurance claims and other features."
Businesses should at least make sure their websites are accessible to individuals using screen readers, he added.
Employers may believe their careers portals are accessible when they aren't, noted Joseph Lynett, an attorney with Jackson Lewis in White Plains, N.Y. Making careers websites accessible will be particularly important under emerging law if that's the exclusive way to apply for jobs with an employer, he predicted.
Litigation in Its Infancy

It has become clear in many jurisdictions that public accommodations' websites are covered by Title III of the ADA and state equivalent laws, said Kate Gold, an attorney with Drinker Biddle & Reath in Los Angeles. Websites of businesses that do not have bricks-and-mortar locations are the exception: The case law has split over whether such purely e-commerce businesses need to make websites accessible, Raizman noted.
Legal challenges of inaccessible careers portals have, until this year, been rare, and inaccessible sites are common. According to the National Organization on Disability's 2018 Disability Employment Tracker, an assessment of corporate disability-inclusion policies and practices at nearly 200 companies, only 49 percent of companies reported that their recruiting websites and intranets were compliant with the Web Content Accessibility Guidelines (WCAG) by the World Wide Web Consortium, as recommended by most courts.
---
Increase in Title III Website Accessibility Lawsuits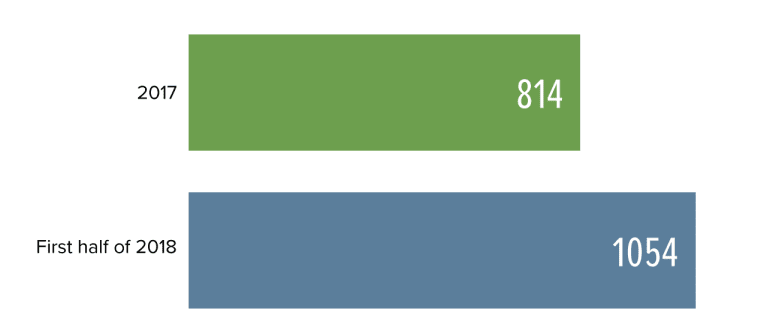 Source: Seyfarth Shaw
---
As of now, there are few, if any, published decisions that address website accessibility in the context of a job applicant who attempted unsuccessfully to access an online application, Gold said. In one Title I and California Fair Employment and Housing Act (FEHA) case in the Northern District of California, a job applicant with a visual impairment filed a lawsuit against 13 retailers, including grocery and pharmacy chains. The applicant alleged employment-discrimination claims for website inaccessibility. The case was resolved without any substantive opinions by the court.
In the past few months, a flurry of complaints has been filed in Southern California, mostly in Los Angeles Superior Court, challenging the accessibility of online job application platforms under FEHA.
As with the plentiful Title III lawsuits against public accommodations, these complaints follow a general format in which a plaintiff who is blind or visually impaired alleges that he or she:
Attempted to review and apply for jobs on an employer's website.
Was unable to do so due to incompatibility with his or her assistive screen-reading software.
These lawsuits often also allege various unsuccessful attempts by the plaintiff to reach out to the employer to obtain a reasonable accommodation, Gold noted.
"To the extent that these Title I and FEHA cases have been filed, they are in their infancy, and it remains to be seen how the courts will address them," she said.
Many questions are unanswered at this point, she noted. For example, if careers portals aren't optimized for individuals with vision impairments, is the placement of a written notice that an applicant can obtain assistance through an employer hotline or submit the application through alternative means a sufficient, reasonable accommodation? Or must employers take additional steps to improve their websites' accessibility?
For now, Gold noted that website inaccessibility increases employers' legal exposure. Moreover, "without accessible online application processes, the employer may be missing opportunities to hire qualified and dedicated employees," she stated.
Law as It Exists

While inaccessible websites are just now being challenged, Kristina Launey, an attorney with Seyfarth Shaw in Sacramento, Calif., said an employer doesn't have to make its careers portal completely compliant with WCAG standards if it provides reasonable accommodations to applicants. An employer doesn't have to provide the preferred accommodation but must only engage in the interactive process, she stated.
It's important, though, that someone answer the phone or respond to an e-mail promptly, said Minh Vu, an attorney with Seyfarth Shaw in Washington, D.C.
---
Top 5 States for ADA Title III Federal Lawsuits:
The following chart shows the five states where the most federal lawsuits under Title III of the Americans with Disabilities Act (ADA) have been filed from January through June 2018. The claims include lawsuits against businesses and other public accommodations, challenging the accessibility of their websites, facilities and parking lots. The chart, although not limited to lawsuits regarding website access exclusively, suggests where Title III website lawsuits are most prevalent.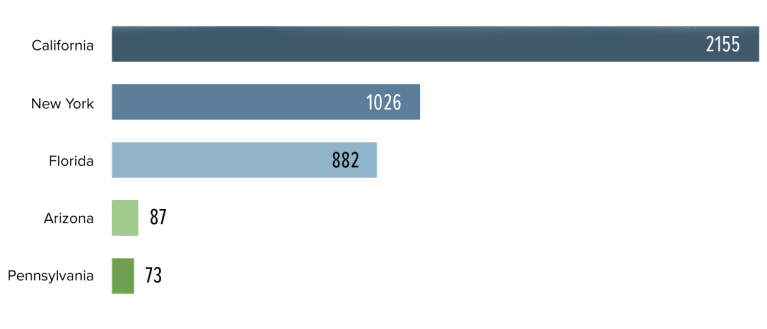 Source: Seyfarth Shaw
---
One common misconception about making websites accessible is that it is inexpensive and easy to do, Launey said. "For complex websites, it can be quite expensive and take quite a bit of time." She also stated that having a website conform 100 percent to WCAG is "virtually impossible," adding, "That's why we refer to 'substantially conforming' to WCAG guidelines."
Julie Ann Sowash, a senior consultant with Disability Solutions in Bethel, Conn., said that website access won't take an entire site overhaul to make it minimally accessible.
Carol Glazer, president of the National Organization on Disability in New York City, stated that a common misperception is that website access is a "nice to have" rather than a "need to have." She said that barring potential job candidates from accessing applications "has a real effect on the bottom line."
[SHRM members-only toolkit: Accommodating Employees' Disabilities]
If companies are not providing a way for people with disabilities to use their websites, they are just paying lip service to diversity and inclusion, noted Lewis Wiener, an attorney with Eversheds Sutherland in Washington, D.C. He said most companies work hard to have an inclusive environment, striving to do more than merely satisfy the legal requirements of the ADA and fulfill what the ADA was intended to do to bring about greater inclusion.