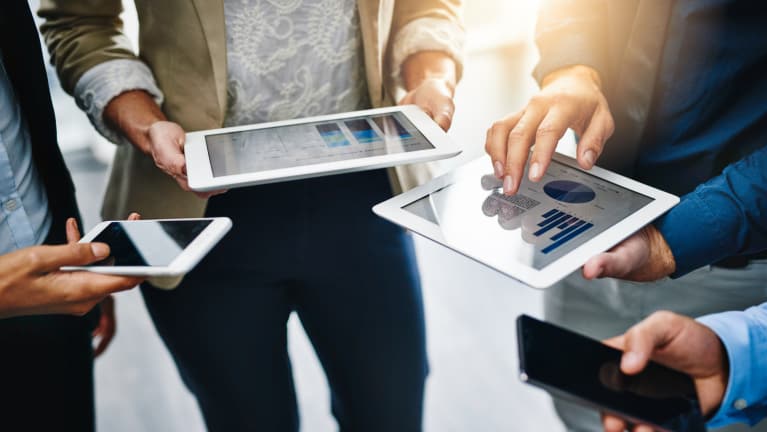 ​HR leaders interested in how they stack up to competitors in key performance areas have a wealth of benchmarking data at their disposal. Vendors are expanding their benchmarking services as they aggregate data from clients in areas like compensation practices, turnover rates, time-to-fill open jobs and how HR functions are staffed. 
Those vendors also are addressing some of the historical drawbacks of using benchmarking data: technological limitations, long lag times and reports that were not user friendly. Advancements in data aggregation practices and new data visualization tools are helping.
But getting timely, relevant data is only one part of the benchmarking challenge for HR. Experts say using that data to move beyond mere imitation of peer practices to driving continuous improvement on key metrics may be an even more important goal for human resource functions.
[SHRM members-only online discussion platform: SHRM Connect]  
Benchmarking Technology Evolves
In times past, vendors would create benchmarking reports by collecting data from sources like salary surveys that required considerable time to execute and validate. That meant users would sometimes get data that was 18 months or older. Now that data can be delivered to clients faster and the information is often more reliable.
ADP has gathered and anonymized data from 30 million U.S. workers in more than 90,000 organizations. It draws its compensation data from actual payroll records rather than from salary surveys that often rely on self-reported data. The company also updates the data quarterly or even monthly to ensure it is relevant.
Visier also collects client data more frequently and generates its benchmarking reports quickly, said Ian Cook, vice president of people solutions at the Vancouver-based company. "We can publish benchmarking data a few months after its aggregated and anonymized now," he said. In addition to offering benchmarking reports—which give HR clients fixed data from a certain point in time—Visier also offers a service with trending data that is constantly updated.
Cook said benchmarking can provide important context to HR leaders as they make strategic decisions. "For example, we were able to demonstrate to one client that while their voluntary turnover rate in one area was increasing, it was increasing much slower than the market average," he said. "If you just rely on your own data you might think you're failing, but when you benchmark against your peers or industry it gives you a different perspective."
Benchmarked data also can help HR make the case for hard-to-sell strategic or cultural change, Cook said. "If 40 percent of employees in your organization have been evaluated as high performers but the benchmark for your industry is 20 percent, you have data to take to business leaders to question whether your performance culture might be tough enough."
Marc Rind, vice president of product development and chief data scientist with ADP, said how benchmarking data is used makes all the difference in its impact on organizations. He gives as one example a transportation company that discovered from a benchmarking report that its compensation for truck drivers is near the industry average.
"While that's valuable to know, what leaders should really care about is whether they are grossly overpaying or grossing underpaying employees in that role," Rind said. "The most valuable data that HR can deliver to executives or business line leaders is where they sit on the extremes, so they can take the appropriate action."
Beyond Imitation to Continuous Improvement
One of the criticisms of benchmarking is that while it helps leaders understand where they stand relative to industry averages, it's not often used as an impetus for continuous improvement. For example, experts say just because a metric like employee turnover rate is better than the market average shouldn't mean you stop trying to improve it.
"The biggest mistake I see is that companies will get data like the industry is spending X amount in a given talent area and they think success means simply matching or slightly exceeding that," said Dani Johnson, co-founder and principal analyst of Red Thread Research, a human capital research and advisory firm in Salt Lake City. "But benchmarked data should just be a guideline and place to start a discussion. You might be high or low against peers or the market, but what does that mean relative to your own unique business goals?"
Stacey Harris, vice president of research and analytics for Alpharetta, Ga.-based HR research and consulting firm Sierra Cedar, said external benchmarking data should be considered with the context of internal business goals. "If you're only using it as a scorecard against the market then chances are you're always looking backward and simply comparing yourself to the average," Harris said. "And what is a best practice for one organization may not be for another."
For example, a retail organization benchmarking against industry averages may be comparing itself to some retailers who place more emphasis on their online operations than their brick-and-mortar units, with most of their revenue coming from e-commerce. "You don't always know those factors when you use benchmarking data," Harris said.
Diversity and Inclusion
One area that experts say is attracting more benchmarking interest within HR is diversity and inclusion initiatives. Workday's Data-as-a-Service (DaaS) benchmarking division, for example, has seen growing demand in that area, according to Christina Goldt, Workday's vice president of HCM products.
"We're delivering more diversity benchmarks that help clients compare industry data against their core organization as well as their talent acquisition practices," Goldt said.
Cook said a growing number of Visier clients are interested in diversity benchmarks for reasons of limiting "reputational risk" in addition to a belief that diversity and inclusion practices can improve business outcomes. 
"We have seen customers in some industries and geographies who are increasingly concerned about disadvantaging women and other populations in their hiring or promotion practices," he said.
Companies expanding into new markets or undergoing a merger or acquisition also can find value in benchmarking data, experts say. ADP's Rind said such data can help leaders better determine competitive compensation rates in unfamiliar markets, set expectations for time to fill job openings or create appropriate spans of management control when developing new organizational structures.
Dave Zielinski is a freelance business writer and editor in Minneapolis.