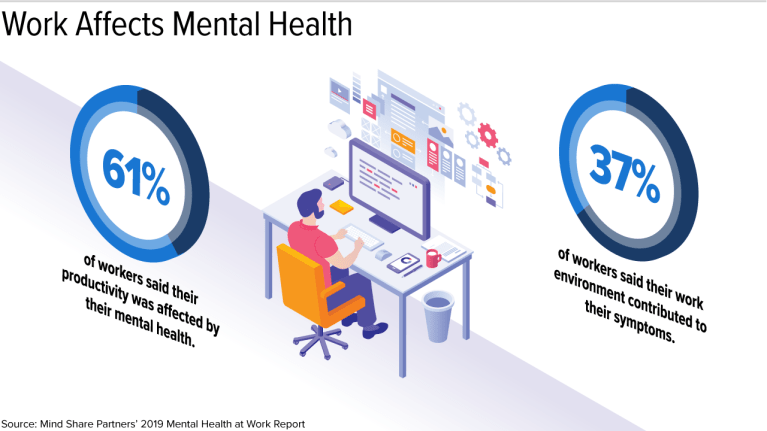 Mental health issues are more prevalent among the workforce than employers may realize, and for many employees, work is a factor in the mental health symptoms they experience.
Nearly 60 percent of 1,500 U.S. adults working full-time said they had experienced one or more of a dozen negative mental health symptoms in the past year, according to Mental Health at Work: 2019 Report from Mind Share Partners. Anxiety, depression and eating disorders were the most commonly cited symptoms.
Thirty-seven percent thought their work contributed to their mental health symptoms. Employees who said they experienced negative mental health symptoms ranged from individual contributors to C-suite members.
Mind Share Partners offers workplace seminars and other services to build awareness about mental health. In its report, the nonprofit said it looked at mental health "as a broad and inclusive spectrum of wellbeing, ranging from 100 percent health to chronic and severe life impairment. In between is a lot of gray area. Everyone moves across this spectrum throughout the course of their lives."
And while 24 percent of workers surveyed said they had received a formal diagnosis around a mental health condition and had received treatment in the past, Mind Share Partners said its findings "suggest that beyond diagnoses, an even larger proportion of people in the workforce is facing mental health symptoms."
An abridged version of the Mental Health Screening Form-III, a clinically validated screening tool, was used to ask respondents if they had experienced any of a list of symptoms. Questions included whether, in the past year, they had felt sad, tired, numb or lost interest or pleasure in most activities for weeks at a time; had strong fear, such as social events or being alone, that affected their day-to-day well-being, or  had heard voices or saw things no one else could see or her.
[SHRM members-only toolkit: Employing People with Mental Health Disabilities]
Research also found that: 
61 percent said their mental health affected their productivity; difficulty concentrating was the most commonly cited impact.
86 percent identified at least one barrier that could stop them from approaching someone at work who might need mental health support. Feeling awkward and not wanting to offend was most commonly cited.
60 percent had used some type of accommodation to support their mental health. Going on vacation, taking time off and working part-time shifts were the most commonly cited adjustments.
52 percent think an employee with a mental health condition could be just as productive as someone without such a condition.
22 percent voluntarily left a role from a previous job because of mental health reasons.
60 percent had never talked to someone at work about their own mental health and only 25 percent felt comfortable talking to HR and senior leaders about their mental health concerns. Baby Boomers were less likely than other generations to feel comfortable having such a discussion.
Mike Maughan, head of global insights at Qualtrics, which partnered with SAP and Mind Share Partners on the report, thinks that as Millennials and other, younger, generations advance into leadership roles, then "you'll see a cultural shift" toward openness about talking about mental health issues at work. Younger employees, he noted, view mental health issues as less of a stigma.
The report's findings are based on a national online survey conducted in March and April  with 1,500 people working full time.