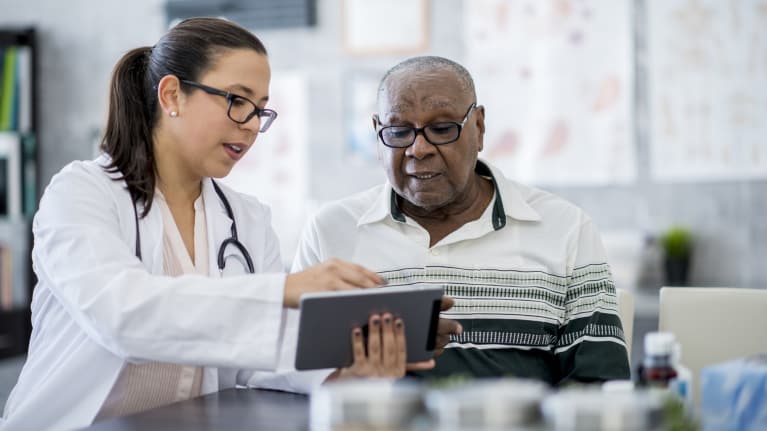 Republicans expanded their Senate majority in the Nov. 6 midterm elections, but Democrats will have a majority in the House when Congress convenes in January. The partisan divide makes it unlikely that any major changes in the Affordable Care Act (ACA) will advance to the desk of President Donald Trump. But that doesn't mean bipartisan efforts to address health care challenges are off the table. Meanwhile, heading into the 2020 presidential election, progressives will continue to advocate for government-funded single-payer health care for everyone.
"Health care
remains a top issue among voters," said Chatrane Birbal, the Society for Human Resource Management's (SHRM's) director of congressional affairs for health and employee benefits policy. "These voters were pivotal to Democrats' clinching the majority in the House of Representatives."
With a divided Congress, "expect House legislative efforts aimed to preserve and defend the ACA, including proposals to reaffirm protections such as guaranteed renewability of coverage and the elimination of pre-existing conditions restrictions," Birbal said.
ACA Is Here to Stay
With the Democrats in control of the House, "any bills aimed at dismantling the ACA will be taken off the table," which "all but solidifies the future of employers' compliance and reporting obligations" under the law, said Arthur Tacchino, J.D., who has taught college courses on the ACA and health care at both The American College of Financial Services and Widener University in Pennsylvania, and is principal and chief innovation officer with compliance tech firm SyncStream Solutions.
Proposed legislation that seeks to amend the ACA to narrow required coverage also "has little to no chance of moving forward," Tacchino said, such as the SHRM-supported
Save American Workers Act, which would have raised the full-time employee hour threshold that entitles workers to receive employer-sponsored coverage to 40 hours per week rather than 30.
"The employer mandate puts a burden on employers, but we're entering year four of reporting, and in many senses the rules and enforcement of those rules have been fully adopted, which makes it harder to undo," Tacchino said.
There has, however, been bipartisan support to delay the "Cadillac tax" on high-value employer plans,
set to take effect in 2022. "We expect that Congress will be able to work together again to hopefully repeal this unreasonable tax," which is opposed by both businesses and unions, said Steve Wojcik, vice president of public policy at National Business Group on Health, an employers group.
Wojcik is also hopeful that "it's possible Congress can work together to fix administrative issues, like simplifying the reporting requirements" for employers under the ACA.
The proposed Commonsense Reporting Act, which SHRM supports, would do that.
"The greatest chances at bipartisanship are going to be the areas far away from public debate, so you could potentially see changes to ACA reporting," said Shandon Fowler, founder and principal of benefits consultancy Four8 Insights.
In addition, "we are likely to see the House work to stabilize components of the ACA" with a focus on individual markets, said Danielle Capilla, director of employee benefits compliance at Alera Group, an insurance and financial services firm. "This could come in the form of ensuring access to networks and carriers, attempts to strengthen the federal marketplace, and potentially working to tighten the rules regarding special enrollment periods and triggering events."
Wojcik expects that Congress could "work together on Medicaid flexibility for states and strengthening the exchanges."
Bipartisan Opportunites
"It will be hard for either party to ignore health care, because it was one of the top issues leading into the election, and both parties need to show they are making changes and effectively improving health care in America," said Tacchino.
Targeted goals, such as legislative action to improve access to telehealth, "will be another strong theme in the coming year," Capilla said.
In July, the GOP-controlled House passed two measures
to expand the use of health savings accounts (HSAs), but so far the Senate has not acted on these bills.
"Outgoing House leadership might look for some easy wins during this lame-duck session and may work to convince their Senate counterparts to pass the HSA expansion legislation," Capilla said. "It would be something positive to bring home for the holidays."
Wojcik said it's not clear if legislators will take up the proposals in this session, but he's hopeful the next Congress will revisit them. Birbal agreed: "SHRM-supported, bipartisan proposals to update rules governing HSAs, repeal the Cadillac tax and … ease ACA employer reporting requirements could receive floor consideration" next year.
Wojcik also supports bipartisan efforts to give high-deductible health plans "more flexibility to cover chronic care management, worksite clinics and some convenience care [such as telehealth or retail clinic visits] before the deductible is met."
Prescription Drug Costs
Democrats might support the administration's efforts in curtailing
rising prescription drug costs. "It's likely that a Democratic House will make it easier to consider changes in policy to lower prescription drug prices, and [it] may be even easier for the administration to move forward with its latest proposals," Wojcik said, referring to calls for greater price transparency from drug manufacturers and pharmacy benefit managers and tying Medicare reimbursements for prescription drugs to international prices.
"Prescription drug prices seems to be one of those areas where there is mutual agreement between the parties, and I would expect bipartisan cooperation on it," Tacchino said.
"If there is any change in policy, it could be in a bipartisan approach to address prescription drug costs and the impact of prescription drugs on the health and safety of the community," predicted Perry Braun, executive director of the Benefit Advisors Network (BAN), a consortium of health and welfare benefit brokers. "The national discussion around opioids, the increase in drug prices on certain medications, as well as the lack of generic equivalents are issues that both parties wish to address from a policy perspective."
"Senate leader Mitch McConnell said the day after the election that prescription drug costs
topped his list of health care issues to address in the next Congress. Democrats will likely want to address the issue as well," Fowler said. "The real question is whether they'll be able to agree on the extent of change needed."
He added, "It actually makes for a great case study of whether there can be any cooperation in the Trump-era Congress, or if we're just running out the clock until the 2020 election season starts in earnest."
[SHRM members-only toolkit:

Managing Health Care Costs]
Regulatory Reforms
The administration's regulatory reforms for employer-sponsored plans, such as easier
access to association health plans, allowing
health reimbursement arrangements (HRAs) for individual-market coverage and introducing
short-term insurance plans, "will likely continue forward," as it would take new legislation to derail them, Tacchino said. "Once regulations are finalized, we will see what impact they have as employers choose to adopt, or not adopt, these new opportunities."
"The administration is likely to consider additional flexibility for coverage options, though the Democrat-led House may push back," Wojcik said.
Birbal expects that the three House committees with jurisdiction over health care will hold hearings to examine actions taken by the Trump administration to expand access to non-ACA health plans, but "Democratic legislative proposals will face opposition in the Republican-majority Senate and ultimately a veto threat from President Trump."
Single-Payer Prospects
In July, a group of 70 House Democrats
launched the Medicare for All Caucus, with the goal of passing the
Expanded and Improved Medicare for All Act, under which employers would be limited to providing supplemental health coverage.
A similar Senate measure,
the Medicare for All Act, was introduced
with 16 co-sponsors by Sen. Bernie Sanders, I-Vt., who caucuses with Democrats.
The Hill reported that "many lawmakers seen as top contenders for the party's presidential nomination in 2020, including Sens. Kamala Harris (D-Calif.), Cory Booker (D-N.J.), and Elizabeth Warren (D-Mass.),
are backing Sanders' latest Medicare for all bill."
Especially as the 2020 Democratic presidential candidates launch their campaigns, "we're going to have a big conversation about the employer-based system," according to Christopher Condeluci, principal and sole shareholder at CC Law & Policy in Washington, D.C. "It's coming, so [employers] should prepare for it, should the stars align in that way."

Related SHRM Article:
Workplace May Be New Battleground for 2019-20 Congress,
SHRM Online, November 2018