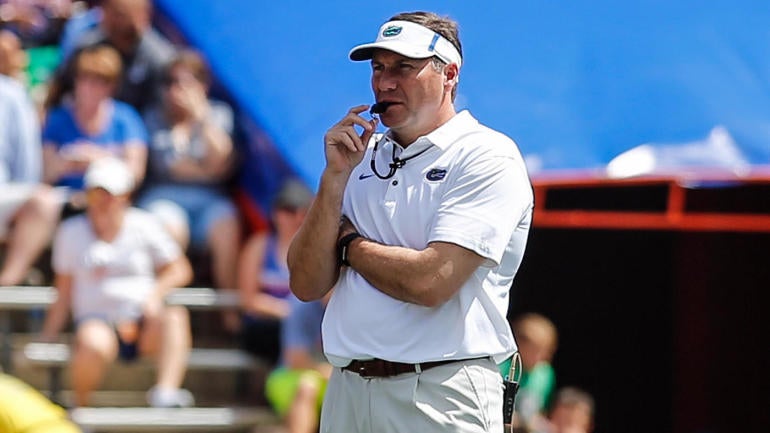 There was a time when recruiting started ramping up in December. A slow start could be remedied by a furious cram session for final exams in February. As we creep towards January of 2019, that time feels like ancient history. In modern times and in the age of the early signing period, if you're just getting things cranked up in December, you've already failed.
Now just two weeks out from National Signing Day, the time is now for teams pacing slower than usual on the recruiting trail to make a move. After December, the talent inventory will be significantly depleted so these two weeks can make or break a class. Here are seven teams that need to make a move. All rankings are from the 247Sports Composite team rankings.
Current rank: No. 12
Status: Urban Meyer is one of the greatest head coach recruiters in college football history. So it should be no surprise that his retirement announcement on Tuesday was timed with recruiting in mind. Meyer's uncertain future has cast a cloud over an Ohio State class that has been stagnant during the fall. Now that the veil of uncertainty has been lifted and Ryan Day can steer the Buckeyes' battleship, Ohio State will try to claw its way back up to the top five range that it's been operating in for the better part of the last decade.
Top December target: Five-star defensive end Zach Harrison, a Columbus native who is currently projected to land at Michigan.
Current rank: No. 19
Status: There is one Florida commit out of the state's top 20 prospects so far. That commit is Diwun Black, a Mississippi native that transferred into the state for his senior year. The next time you see a Gators commit in the state rankings is the 38th ranked player, running back Nay'Quan Wright. Early in his tenure, Dan Mullen is leaning on a national and regional footprint but the Gators won't fully maximize their recruiting potential until they're dominating the state again. We may have to wait for the next cycle for that shift.
Top December target: Top 100 cornerback Chris Steele out of California is planning on signing in December and announcing in January before enrolling early. Florida is trending for the physical defender.
Current rank: No. 26
Status: Typically, we don't worry about USC sitting outside the top 25 in December. It's a Trojans tradition to make a furious January close, even with the early signing day as an obstacle. This is a different year though with Clay Helton job security issues, staff shakeup that has seen the departure of two of the Trojans' best recruiters in Tee Martin and Kenechi Udeze and a disappointing season to sell. The good news is the Kliff Kingsbury's addition at offensive coordinator gives Helton a major injection of energy and credibility, even if only for the offensive targets.
Top December target: The No. 7 player in the country, Bru McCoy, is no doubt thrilled about Kingsbury's addition at offensive coordinator, but his inclination to land at USC regardless of its recent struggles is why the Trojans will always be talented.
Miami
Current rank: No. 30
Status: Miami has had five decommits since November. It's a program that traditionally gets an early start to recruiting and then fights off the rest of the country for its homegrown talent. This year, it is struggling to win that fight, continues to be plagued by quarterback recruiting and is decelerating to the finish line. How's this for a snapshot of 2019: Miami has sent out several offers to New York City prospects and has lost a South Florida prospect to Syracuse.
Top December target: The No. 1 wide receiver in the country is Jadon Haselwood. He's a former Georgia commit that the Bulldogs want back in the fold but South Florida has his attention and most of the Crystal Ball predictions.
Current rank: No. 66
Status: Chip Kelly is going to do this his way. He doesn't care what his class is ranked. He doesn't care that his quarterback commit if 5-foot-10 or that he stole his running back commit from San Diego State. The evaluation process is a big part of the blueprint for Kelly and his staff, but there's no denying that the numbers are low. He only has 10 commits in the fold with an expectation of UCLA finishing with anywhere from 20-25 so there's still work to do.  
Top December target: Four-star quarterback Jayden Daniels has had one of the most productive season in high school football, and UCLA is trying to pry him away from Utah, Cal and Arizona State among others.
Current rank: No. 91
Status: There's a lot of reasons for North Carolina fans to be optimistic about Mack Brown. Short term recruiting success isn't one of them. Brown takes over with no meaningful relationships in place with prospects, no working context for the 2019 class and an underwhelming class to build on. Since Larry Fedora's firing, North Carolina has lost four of its 12 commits and its most recent commitment was August. One of Brown's first moves as head coach was to hire dogged recruiter Tim Brewster and promote Tommy Thigpen. Both will be asked to do some heavy lifting in the coming weeks.
Top December target: The No. 3 pro-style quarterback in the country is a North Carolina native named Sam Howell. He's committed to Florida State and just lost his offensive coordinator Walt Bell to the UMass head coaching gig. The Tar Heels are in desperate need of a quarterback and Howell has already taken a November official visit to Chapel Hill.
Current rank: No. 102
Status: Scott Satterfield is a really good coach, but he has inherited a mess. Let's put in perspective what he has taken over from a recruiting standpoint. Even with a coaching change and even with a 2-10 season behind it, Louisville is currently ranked behind a Western Kentucky team that also fired its coach and went 3-9. It's ranked behind a Central Michigan team that fired its coach and went 1-11. It's ranked behind Harvard. It's also ranked behind Satterfield's former program, Appalachian State.
Top December target: Local prospects. Consider that Rondale Moore is a Louisville native and went to Purdue. Consider that in a banner year in the state of Kentucky that features eight four-star prospects, none are committed to Louisville. But more than any specific prospect, Louisville just needs to get off the mat and get started. 
Cover 3: Immediate success ahead
Not everyone will inherit a tough recruiting situation. Here are the top three jobs either freshly filled or currently open that can find immediate success on the trail.
1. Georgia Tech: Paul Johnson deserves a lot of credit for quietly putting together a wildly successful program at Georgia Tech. What he didn't do was recruit. He didn't care for it, didn't prioritize it. Given the way Georgia and the metro Atlanta area has exploded with football talent, this is a goldmine of a job from a recruiting perspective. With the right hire, perhaps a name like Clemson's Tony Elliott, Georgia Tech can really shock people with the talent it can accumulate even without beating Georgia and the big dogs of the SEC.
2. Charlotte: There is a reason why a lot of coaches saw the Charlotte job as one with a lot of potential. The hiring of former Austin Peay coach Will Healy signifies that Charlotte believes there is a lot of potential as well from a recruiting standpoint. That's Healy's specialty, recruiting and program building, and something he did really effectively in his previous stop. Charlotte is a new program only six years old in a growing city that is bubbling with talent in a conference that it can compete in and it is watching another in-state peer with much more tradition face a coaching transition at Appalachian State.
3. Ohio State: Ohio State will always recruit at a high level so of course the Buckeyes won't drop much under Day. But it's the foundation that Meyer has set in place is what has Day set up for success. Meyer has perfected the machine of recruiting in a way not many coaches ever have. He's got one of the nation's top player personnel directors in Mark Pantoni, and he's got that program prioritizing talent acquisition as well as anyone in the country. It will be tough for Day to top Meyer but it will be even tougher for him to fail thanks to the infrastructure that has been put in place.