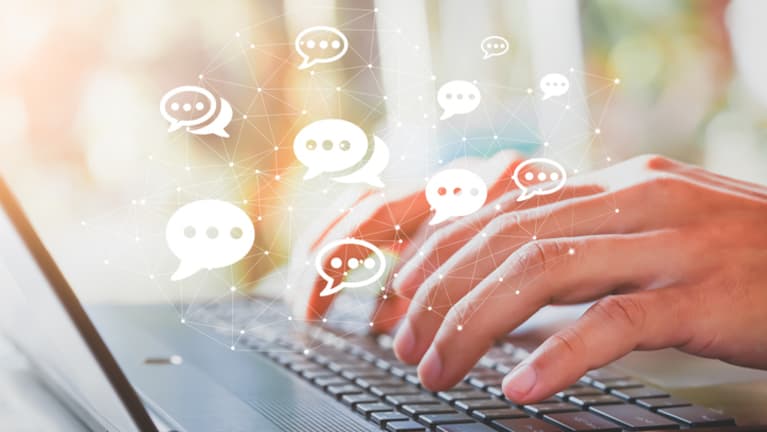 ​Crystal McFerran, a senior vice president at IT services firm The 20, found that employees worked together much more efficiently after they started using the popular collaboration platform Slack.
"Using Slack has greatly improved the way my team operates and communicates. It allows us to communicate faster, share files easily, and significantly cut down e-mail usage and response time," said McFerran.
Slack, like many other collaboration platforms, is cloud-based software that team members can use to manage projects, proof and comment on shared files, brainstorm, take polls, chat with remote co-workers and send alerts, from computers or mobile devices. Conversations and project collateral are housed on "channels," All of a project's assets can be saved in Slack, and the software can be used along with other common office software.
The 20, based in Plano, Texas, is one among many companies that have adopted collaboration software like Slack, Trello, Asana, Skype, Basecamp, Zoom and a host of others to help ease communication among co-workers. Collaborative software and apps are taking on an important role in many firms that have far-flung teams and employees who are overwhelmed by calls and e-mails.
The global collaboration software market has grown from about $7 billion in 2015 to an estimated $8.75 billion this year, and is projected to surpass $9.5 billion in 2021, according to Statista, a provider of marketing and consumer data.
While collaboration apps, with their popular chat features, bring the possibility of counterproductive distraction, they also offer employers and colleagues tools to organize tasks, projects and communications.
"To be successful, businesses need to be lean and agile, and able to get as much out of their staff as possible. In many cases that means using collaborative tools to help them boost productivity by cutting down on a variety of their day-to-day administrative burdens," said Allie Kelly, vice president of marketing at recruiting software firm JazzHR, which has offices in Pittsburgh, Pa., and Waltham, Mass.
"Collaborative tools come in all shapes and sizes, including recruitment software, messaging systems, file sharing apps, and project management software, among many others," she said. "If you pick the right ones, you'll not only save time and money in the long run, but also help foster teamwork and cohesion and ultimately create a more positive work environment for your employees."
Many popular collaboration tools are free or low-cost, Kelly noted, listing several favorites:
Project management platform Asana, which has a dashboard that allows teams to monitor the progress of multiple tasks at once.
File-sharing app Dropbox.
Slack, which provides a centralized virtual location to communicate through instant messages and chat rooms, and the ability to drag and drop files from Dropbox and Google Drive.
Trello, a visual tool that helps people organize work into cards and boards.
Collaboration platforms can be particularly helpful for teams with remote workers. Regular telecommuting grew more than 115 percent in the United States over the past decade, according to a 2017 FlexJob and Global Workplace Analytics workforce report.
Ben Aston, founder of The Digital Project Manager, a Canadian project management portal, said that as remote working becomes more common, people are more likely to encounter workplaces that are "online collaboration hubs rather than traditional offices."
"Collaboration tools serve these new work environments by providing a central space—a virtual office building—where all of an organization's documentation, processes, deadlines, schedules and communication lives," Aston said. 
Collaboration Platform Positives …
McCall Robison, chief editor and blog manager at Utah customer-review site Best Company, uses Slack and Basecamp, a project management and team communication app, to communicate with colleagues and organize work. "Basecamp has allowed our company to be on top of tasks without having to worry about whether or not someone knows what to do, how to do it, and when to do it," she said. 
… And Collaboration Platform Positives and Negatives
Tyler Koblasa, CEO of San Francisco-based CloudApp, said his screen recorder software firm uses several collaborative tools, including Slack, Atlassian's Jira for project management, Zoom for conference calls, Chorus.ai to transcribe meeting notes, and its own product for visual content creation and sharing.
"Slack can be used as a powerful communication tool that brings together an organization with teammates around the world. However, it can also be a constant noise machine and time-sink if not used strategically," Koblasa said.
"The value of Slack is being able to discuss topics and collaborate quickly. It's easier than using e-mails, and each conversation can be organized by topic. The drawbacks include an increase in distraction, as employees can sometimes go down the path of following too many conversations at the same time without getting any concrete work done," he said.
Koblasa said his company, among other rules for Slack use, advises employees to follow only the minimum number of channels that apply to their role, consolidate channels every quarter to cut down on noise, default new channels they create to "private" to avoid distractions, and invite only the necessary participants. (Slack channels may be open to all members of your "workspace" or set to private for individuals specifically invited to participate.)
Will Craig, managing director of U.K. car-leasing comparison site LeaseFetcher, said his firm has a rule against using Slack for nonwork topics so feeds don't become clogged with "irrelevant chat." The platform has "helped to massively speed up communication between different teams in my business," he said. 
Better Communication Overall
At The 20, McFerran said, teams can separate their Slack communications by department, teams and companywide announcements. "The ability to communicate in real-time with multiple individuals at once is a huge advantage," she said.
Teana McDonald, CEO at social media and PR firm 3E Connections Inc. of Coral Springs, Fla., said her company has reduced e-mail communication by 45 percent and boosted productivity by 35 percent since adopting Slack. She used Google Analytics to compare monthly results.
"Since some of our employees are remote, being able to collaborate real-time, reduce the amount of e-mails and invite clients into a group is a game-changer," McDonald said. "Our communication style and project response and efficiency has improved tremendously."
Dinah Wisenberg Brin, a former Associated Press and Dow Jones Newswires staff reporter, is a freelance writer and journalist based in Philadelphia.