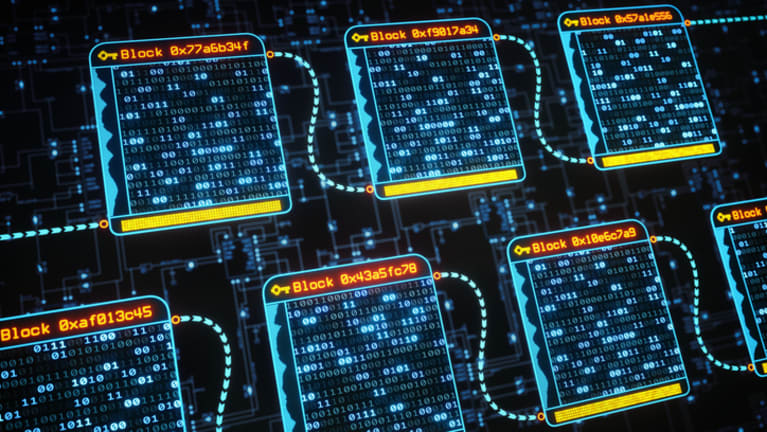 ​Business and technology roles have shown the fastest rate of growth over the last five years, according to U.S. data from global professional networking site LinkedIn.
Six of the top 15 fastest-growing jobs, ranked based on job titles added to users' profiles, are related to data science and machine learning, but working with blockchain technology has grown the most—by a factor of 33 since 2014.
"It may not shock you that blockchain developer is topping the list following this year's surge in interest around blockchain and cryptocurrency," said Guy Berger, LinkedIn's chief economist.
Over the past 12 months, total job openings for blockchain skills have grown to over 12,000, representing a growth rate of more than 300 percent, according to job data analytics firm Burning Glass Technologies.
LinkedIn data showed that the top industries hiring for blockchain skills are information technology services, computer software and Internet companies. Demand is highest in San Francisco, New York City and Atlanta.
"Only time will tell if blockchain will be a long-standing trend in the job market," Berger said. He pointed to the growth of machine learning and data science roles as evidence that those fields are surer to expand.
"We are likely to see continued growth in fields and functions related to artificial intelligence [AI]," he said. "Our research shows that skills related to AI are starting to infiltrate every industry, not just tech. Researchers predict that AI will have applications across nearly every industry sector, from manufacturing to financial services and beyond."
The top 10 emerging jobs in the United States according to LinkedIn are:
Blockchain developer.
Machine learning engineer.
Application sales executive.
Machine learning specialist.
Professional medical representative.
Relationship consultant (banking).
Data science specialist.
Assurance staff.
Sales development representative.
Business support consultant.
There are jobs that have had sustained high hiring rates since 2014, making them potentially more-stable career choices. They include software engineer, realtor, recruiter, account manager and marketing specialist. There were over 8,000 job openings for recruiters on LinkedIn in December 2018.  
[SHRM members-only online discussion platform: SHRM Connect]
Seattle Claims the Most Jobs, January the Most Job Searches
Based on 2018 data from job site Monster, the healthiest employment markets this past year were in Seattle, New York City, Houston and Atlanta. The most job searches per capita were conducted for Pittsburgh, Atlanta, and Orlando and Tampa, Fla.
"Atlanta appears on both lists, suggesting it's one city where a large pool of candidates is matched by an equally healthy job market," said Vicki Salemi, a careers expert with Monster based in New York City. "Pittsburgh's top spot could be proof positive of the city's growing status as a tech hub capable of drawing job seekers from far and wide."
Monster's top keyword searches of the year—"administrative assistant," "part-time," "accounting," "receptionist," "customer service" and "sales"—are evidence of the disparity in the types of job seekers browsing the site, compared to the typical LinkedIn user. Trade-oriented industries such as construction and warehousing accounted for the largest share of hiring in 28 states via Monster searches. Sales and marketing took the lead in another 10 states.
According to Monster, people tend to job-search most in January and February. The top 10 busiest days for job searches using the site were in the first two months of the year.
"It's no surprise that the most job searches occur in January and decrease as the year progresses," Salemi said. "But hiring is a year-round endeavor, and your job search should be too."
She added that job seekers should avoid "dated hiring myths," such as that the holidays or summer are slow times for seeking a new opportunity. "Employers want to interview and hire strong candidates regardless of the time of year."
U.S. Is the Most Popular Destination for Job Seekers Worldwide
The United States attracted the highest percentage of job seekers from other countries in 2018, according to global job search engine Indeed, which operates in 60 countries.
Of all the job searches conducted by Indeed users for employment abroad, 41 percent were for opportunities within the United States. That's up 4 percentage points from 2017.
"International interest in U.S. jobs remains fairly constant," said Nick Bunker, an economist at the Indeed Hiring Lab. "Steady interest may reflect the continued strengthening of the U.S. labor market, creating a certain luster for international job seekers."
But while the United States remains an attractive destination for international job seekers overall, important differences stand out, depending on from where job seekers are searching.
"Job seekers from several Latin American countries have shifted away from the United States [since 2016]," Bunker explained. "Of the top 10 countries with the largest declines in interest to the U.S. since 2016, nine are from Latin America. The timing of the drop is telling—for example, the downward trend for [job seekers in] Colombia and Mexico started in late 2016 and early 2017, around the time of President Donald Trump's election and inauguration."
Interest in the U.S. has increased in Europe. "The share of cross-border searches going to the U.S. has risen in a number of European countries such as Portugal, Poland, Hungary, Denmark and the Czech Republic, indicating that the U.S. continues to be attractive to job seekers from that continent," Bunker said. 
The second most popular destination for professionals looking for work abroad based on Indeed job searches in 2018 was the United Kingdom (10.5 percent of all such searches) followed by Canada (7.2 percent).
Venezuela, devastated by an economic freefall, was the country with the highest percentage of job seekers looking for work abroad, with 70 percent of job seekers using the site for work outside the country. Japan was the most insular in 2018, with only 0.2 percent of all searches conducted on Indeed aimed at opportunities abroad.