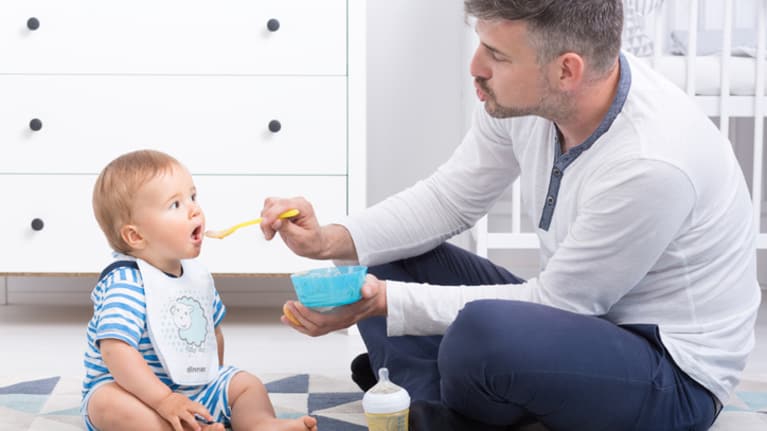 Organizations on Working Mother magazine's inaugural Best Companies for Dads list are leaders in providing paternity leave, phased back-to-work programs, telecommuting opportunities and flexible schedules.
"These trendsetting companies are helping erase the stigma attached to men taking off time to bond with their new babies, [or] utilizing telecommuting opportunities or flexible schedules in order to be more involved on the homefront," said Meredith Bodgas, editor-in-chief of Working Mother. "Not only does this help dads," she said in a news release, "it helps moms succeed both at home and at work and puts them on more equal footing."
Making the List 
Working Mother Research Institute created the list by examining answers to questions related to fathers in the application for Working Mother magazine's list of 100 Best Companies. The questions were about paternity and adoption-leave benefits, surrogacy and fertility benefits, child care options, employee resource groups (ERGs) for men and programs that let parents ease back to work after parental leave. The top 35 organizations had significantly more points than other companies, according to the magazine.
"In today's workforce, employers of choice realize that more and more dads are speaking up about wanting to be an equal partner at home and remain ambitious at work," Working Mother's publisher, Joan Sheridan, told SHRM Online. "It is our collective hope that by bringing attention to this initiative, other companies will follow in their footsteps and change the status quo."
Family-Friendly Benefits 
All companies on the list offer fully paid paternity leave. On average, they offer nine weeks; the average amount taken is seven weeks.
The percentage of companies offering paid paternity leave has increased significantly in the U.S., from 21 percent in 2016 to 29 percent in 2018, according to the Society for Human Resource Management. The percentage of companies offering paid maternity leave has risen from 26 percent in 2016 to 35 percent in 2018.
Eighty-six percent of companies on the list also offer financial benefits for in vitro fertilization, and 49 percent offer financial benefits for a surrogate via insurance coverage or financial stipends.
"There is a growing recognition that there are different ways in which families are constructed and how they operate," said Jonathan A. Damon, associate general counsel for MetLife, in an announcement about the company's inclusion on the list. "To that end, MetLife initiated a program in the last few years to help defray some of the legal and nonmedical costs of surrogacy. 
"We have also expanded paternity leave and seen an increase in fathers taking that time," he said. Damon was one of the first officers to take paternity leave as a primary caregiver, and he noted that he "received excellent support from the company and colleagues throughout that experience." 
At Microsoft, fathers receive 12 weeks of paid leave. The company plans to increase its subsidized backup care from 100 to 150 hours in January. It also offers ERGs for mothers and fathers.
General Motors, in addition to paid parental leave for mothers, fathers and adoptive parents, offers a returnship to help experienced professionals get back to work after taking a career break. The company has used returnships to onboard engineers who have been out of the workforce for two to 22 years.
[SHRM members-only resources and tools: Leave: Parental Leave Request]
Other father-friendly benefits from companies on the list include:
97 percent offer support for children with autism, and 74 percent offer support for children with cancer. Support includes special counseling for parents, links to resources and extra time off to attend to family needs.
97 percent offer backup child care when regular child care isn't available. 
83 percent offer backup in-home child care, such as assistance finding people who can provide short-term baby-sitting during emergencies.
77 percent offer sick-child care. Options vary, including organizations that recommend facilities that will take a child for the day or provide temporary sitters that come to the employee's home. 
Supporting Fathers 
The 2017 study "The New Dad: The Career-Caregiving Conflict" from Boston College's Center for Work & Family found that there is a "growing acknowledgement" that fathers struggle with work/family conflicts as much as their co-workers who are moms do.
In the report, employers are advised to survey fathers in their organizations to determine the kind of employer support they seek and adjust benefits accordingly. That support may include:
Starting a fathers' employee network or mentoring program that focuses not only on career development but also on the work/life struggles men experience. Eighty-three percent of the companies on the list have ERGs for parents or caregivers, and 20 percent have groups specifically for men. 
Promoting training to help fathers with career/life planning.
Offering flexible work options to support fathers striving to meet professional and personal responsibilities. Eighty-two percent of the companies on the list offer flexible schedules, and 82 percent of the men at the companies telecommute some of the time.
Providing gender-neutral parental leave—and encouraging its use—so fathers can bond with their children and learn hands-on caregiving skills without worrying about appearing to be less committed to their employer.
However, it's not enough to have a gender-neutral policy, Boston College noted: 
"While organizational policies are designed to be gender neutral, organizational cultures are not. There are still deeply embedded assumptions that when men become fathers, nothing will change on the work front.
"As fathers take on greater responsibility for caregiving and other family responsibilities, organizational cultures need to adjust to this new reality … and not assume that being a good father simply equates to being a financial provider."
Top Companies Support Working Fathers with Leave Policies
All companies on
Working Mother magazine's list of top companies for fathers offer fully paid paternity leave in addition to other dad-friendly benefits.
​AbbVie
14,367
​8
​10
​
​Accenture
​49,901
​2
8​
​✓

​American Express
19,777​
20​
​20
​✓ 
​Arnold & Porter
1,749​
6​
18​
​
Bain & Co.​
​3,056
​8
8​
​
​Bank of America
175,176​
16​
16
​
​BASF
16,715​
8​
8​
​
BDO USA​
6,361​
2​
9​
​
​BlueCross BlueShield of North Carolina
4,374​
12​
12
​
​Deloitte
59,104​
16​
16​
​✓
​Discovery Communications (now Discovery Inc.)
2,731​
12​
12​
✓​
​EY LLP
45,184​
​16
​16
✓​
​Federal Reserve Bank of San Francisco
1,687​
​8
​8
✓​
​Horizon BlueCross BlueShield of New Jersey
5,609​
6​
6​
✓​
​IBM
366,000**​
​12
12​
✓​
​Intel
50,682​
8​
8​
✓​
​Johnson & Johnson
40,153​
8​
8​
✓​
​L.E.K. Consulting
580​
​8
16​
​

​Lenovo

4,338

​

7​

​

7

✓

​
​Lexmark International
2,220​
6​
6​
​
​McKinsey & Co.
8,175​
8​
12​
✓​
​Merck & Co. Inc.
23,766​
6​
6​
✓​
​Moody's
3,543​
10​
10​
​
​OppenheimerFunds
2,004​
8​
8​
​
​PNC Financial Services Group
52​,898
6​
6​
​
​Procter & Gamble
23,212​
4​
16​
✓​
​PwC
45,224​
6​
12​
​
​RSM
9,766​
7​
7​
​
​Sanofi US


12,893​

8​

8​

✓​

​SapientRazorfish (now Publicis.Sapient)
​2,637
6​
6​
​
​State Street
15,526​
8​
8​
​✓​
​The Boston Consulting Group
4,611​
​8
8​
​
​Turner
​9,126
6​
6​
✓​​
​Unilever
7,891​
8​
8​
✓​​
*Fully paid leave after one year of service.
**Total global workforce.
Source: Working Mother magazine.